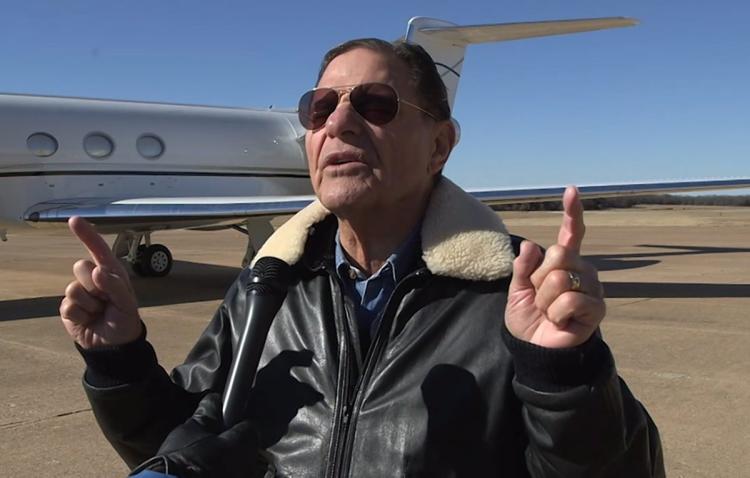 Kenneth Copeland has just added another jet airplane to his collection and is now asking for $19.5 million dollars for upgrades, a new hanger and maintenance equipment.
While wearing a bomber jacket, Copeland, who already has a net worth of around $760 million dollars, was asking his "partners" to sow more seed money into his coffers so that the $19.5 million dollars could be raised.
Copeland was actually laughing when he told his supporters that Jesus had given him the new jet airplane. Jesus didn't give him anything, Kenneth Copeland bought it and his supporters paid for it. His supporters also paid for his private airport, fancy cars, a $6 million dollar mansion and his lavish lifestyle.
Why do so many people continue to send these preachers money? Partly because Kenneth Copeland and many other so-called prosperity preachers beg for money and donations and promise in return material and financial blessings. By giving to them, they claim, God will prosper you. In other words, you can get rich, healed, and blessed by sending them your money. "Come to Jesus to get rich," is the message, "but make sure you send your faith-seed money to us first."
Sadly, there are a lot of naive, sick, elderly and new Christians who are sending their social-security checks and life savings hoping to get cured or blessed financially. The prosperity gospel is not bringing people to repentance; it is feeding the sinful, carnal desires of greed and covetousness. The fact is that Jesus doesn't want us to be poor or rich, He wants us to be saved.
"Remove far from me vanity and lies: give me neither poverty nor riches; feed me with food convenient for me: Lest I be full, and deny thee, and say, Who is the LORD? or lest I be poor, and steal, and take the name of my God in vain." Proverbs 30:8, 9.
The greatest desire that God has for us is that we be holy, pure in heart and conformed to the image of His son Jesus Christ.
"But we are bound to give thanks alway to God for you, brethren beloved of the Lord, because God hath from the beginning chosen you to salvation through sanctification of the Spirit and belief of the truth." 2 Thessalonians 2:13.
God is our reward and our aim is to gain Him. And even if God should bless us with wealth, it will be used to bless others and to share the gospel – not to purchase Bentleys, Rolls Royces and multiple jet airplanes.
The gospel of Christ teaches self-denial and bearing our cross – not materialism, greed and worldly riches. It is a false gospel that offers material rewards and personal gain in return for contributing to the cause of "Christ." The motive for giving to ministry switches from having a cheerful, unselfish heart to having a heart that is governed by covetousness. These prosperity preachers don't know the gospel nor the power of God. Look at Christ's example when He asked a rich man to sell all his riches.
"Jesus said unto him, If thou wilt be perfect, go and sell that thou hast, and give to the poor, and thou shalt have treasure in heaven: and come and follow me." Matthew 19:21.
Did Jesus say, "Send me your money?" Did Jesus command that the money be given to Him? No. To whom were the funds to be given? The poor! Jesus could have said to the rich man, "Send your fortune to ME, and if you do it in the next 15 minutes, I will give you a bonus DVD!" Christ said to the rich man to place his funds in the exact place where they were actually needed the most, and not to send it to build up the personal fortunes of "shepherds" who care more about the fleece than the flock.