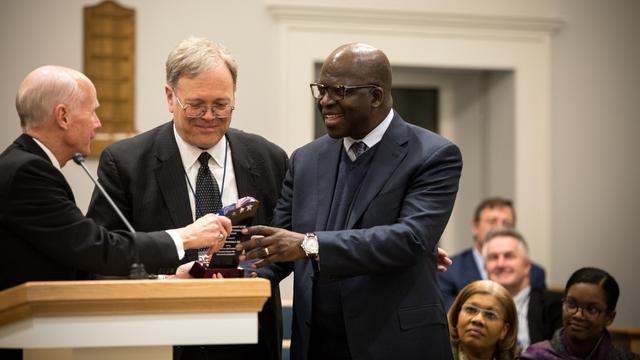 Top leaders in the Mormon Church praised a top leader in the Seventh-day Adventist Church with an award. Dr. Ganoune Diop, director of Public Affairs and Religious Liberty for the worldwide Seventh-day Adventist Church, was given an award for being a champion of religious liberty. The award presentation took place at Brigham Young University, Mormon's top university. The award was given to Diop by Elder Lance Wickman, a member of the Seventy (hierarchy of the Mormon Church). The Mormon leader thanked the Seventh-day Adventist administrator for being a "friend" to the Mormon Church.
Seventh-day Adventist church leader, Diop, reciprocated the warm words by making the following statement about his Mormon friends: "Dr. Diop said it is an honor to receive the award named after an individual who stood for religious freedom and uplifted the downtrodden who were not of his own faith. He also expressed gratitude for the friendship he had with the late Elder L. Tom Perry of the Quorum of the Twelve Apostles (1922–2015). He said he knew from his associations with him that Elder Perry was a man of God."
Once again Seventh-day Adventists fail to defend the faith and allows for statements to be made that are not consistent with our understanding of the Three Angels' Message. Sadly, at these ecumenical gatherings, many things are said and eventually get printed without any clarification or reparations made.
Many sincere Christians and members of the church are being exposed to many of the false doctrines from all the other denomination, and many are left with the impression that these other religious faiths are OK. The churches today are allowing an unprecedented explosion of ecumenism and interfaith "dialog" and "worship." Different and opposing faiths are praying together and offering sacrifices on the alter of multiculturalism. Sometimes they are praying to different gods making themselves believe that it's all the same God. Some actually believe that there are many paths to the same God.
Such interfaith relationships of unity with doctrinal differences are forbidden and condemned by Scripture. True Biblical unity is defined in the following: "There is one body, and one Spirit, even as ye are called in one hope of your calling; One Lord, one faith, one baptism, One God and Father of all, who is above all, and through all, and in you all." Ephesians 4:4-6.
Unity that ignores doctrinal difference or even embraces false doctrine will lead you to apostasy. Read the entire chapter of Leviticus 26. God says that if we don't worship idols, if we keep His Sabbath, keep His commandments then God will "walk" with us and be "our" God. But if re reject His commandment, if we worship idols, and keep not His Sabbath then God will "set" His "face" against us and He would "walk contrary" to us. Herein lies the problem – many of these denominations that we are having fellowship with are in violation to several of the conditions that God has given to us.
Have we forgotten that there are conditions that we must fulfill for God to accept us. Seventh-day Adventist Diop allowed his so-called Mormon friend to die with all of His non-Biblical Mormon beliefs (he was a member of the quorum of 12 apostle, a top leader in the Mormon Church). This epidemic of ecumenism is a complete misrepresentation of Seventh-day Adventism. "Can two walk together, except they be agreed?" Amos 3:3.
God is calling us to a completely different experience. He is calling us to an experience of unity in the Three Angels' Message. We are called to believe in these messages, to proclaim them and to persuade all men everywhere to obey them. The final conflict between good and evil is just before us. In this conflict we cannot be ecumenical. May God always give us the faith and courage to speak "the truth in love" (Ephesians 4:15).
"It was by associating with idolaters and joining in their festivities that the Hebrews were led to transgress God's law and bring His judgments upon the nation…God requires of His people now as great a distinction from the world, in customs, habits, and principles, as He required of Israel anciently. If they faithfully follow the teachings of His word, this distinction will exist; it cannot be otherwise." (Patriarchs and Prophets 458).