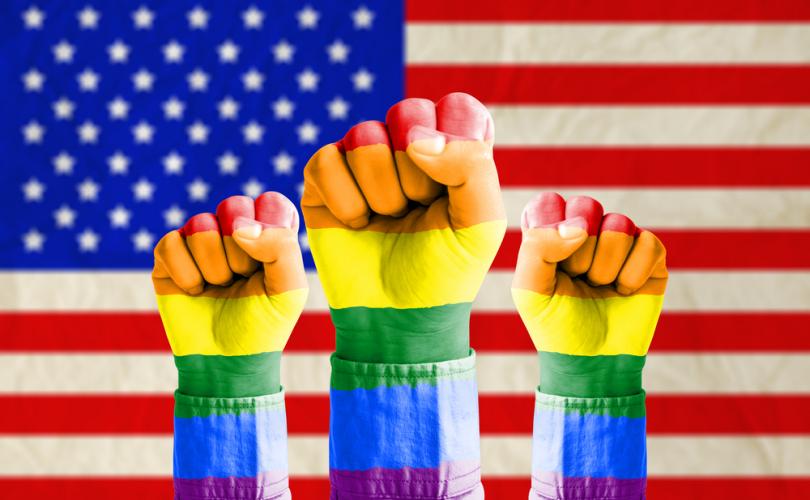 Democratic Rep. David Cicilline of Rhode Island, an openly gay member of the US Congress, [1] has introduced a bill into the House of Representatives called the "Equality Act" (H.R. 5) to expand protections to people based on sexual preference and gender identity. On the surface this proposed legislation sounds innocent:
"To prohibit discrimination on the basis of sex, gender identity, and sexual orientation, and for other purposes." [2]
However, the diabolical part to this legislation is found in section 1107 which claims that "religious freedom" cannot be used as a "defense" to discriminate against gender identity and sexual orientation. [2]
All anti-Christian legislation is often written with nice sounding words like "equality." But once passed this radical homosexual and transgender agenda would fundamentally transform our nation, but more specifically it would destroy the church. Churches would not be able to claim "religious liberty" exemptions for not accepting or endorsing the LGBT+ movement.
Obviously LGBT+ activists will never be satisfied until they are able to shut down all those who for "religious reasons" reject their sexual agenda. They will never rest until they silence every Christian voice and opposition. This extreme, radical piece of legislation is specifically targeting all things "religious."
Dr. James Dobson has condemned this proposed law claiming that this would bring and end to religious liberty:
"Make no mistake, the so-called Equality Act is nothing but a thinly veiled attempt to finish off religious liberty in America once and for all, which ought to be plainly obvious based upon a cursory reading of the First Amendment. Simply put, by creating a protected class of citizens out of the LGBT community, this bill places Christians who believe in traditional marriage at grave legal and civil jeopardy." [3]
This Equality Act is rewriting the sexual and moral definitions given to us by God in His word. By codifying into federal law the LGBT+ movement's definitions on "sexual orientation and gender identity" this will completely transform education and religion in our nation. This would criminalize those who don't affirm the LGBT+ ideology. Free speech would be shut down, churches would be closed and some parents would lose their children.
The First Amendment is hanging in the balance. Our great liberties that have long protected Americans are under attack. This Equality Act has only been introduced into our US Congress. It has yet to pass the House, the Senate and needs to be signed by the President in order to become federal law. But we know that the LGBT+ radicals will not rest until they have the capability to persecute and destroy, through the power of the federal government, all those who oppose their will.
We have a work to do, and we had better accomplish our divinely appointed task before it's too late.
"The work which the church has failed to do in a time of peace and prosperity she will have to do in a terrible crisis under most discouraging, forbidding circumstances. The warnings that worldly conformity has silenced or withheld must be given under the fiercest opposition from enemies of the faith" (Last Day Events, p. 174).
Sources
[1] https://www.washingtonpost.com/politics/david-n-cicilline-d-ri/gIQA6P5YKP_print.html
[2] https://www.congress.gov/bill/116th-congress/house-bill/5/text
[3] https://www.dobsonfamilyinstitute.com/?s=equality