On March 6, 2021, on the second day of his historic visit to Iraq, Pope Francis called on Christians, Muslims and Jews to put aside their differences and work together for peace and unity. Francis held an interfaith service with different religious leaders in the ruins of Ur in southern Iraq and promoted the message of "fraternity" from his papal encyclical "Fratelli Tutti."
A "common prayer" was offered for Muslims, Jews, representatives of different Christian churches and other Iraqi religious minorities during the meeting with Pope Francis to celebrate their "common father in faith," Abraham. Pope Francis called on the different monotheistic religions to end their divisions and "row together on the same side" as children of the same God. Here are some highlights from Pope Francis' speech published by the Vatican Press Office:
"We need to move beyond ourselves, because we need one another. The pandemic has made us realize that "no one is saved alone" (Fratelli Tutti, 54). Still, the temptation to withdraw from others is never-ending, yet at the same time we know that "the notion of 'every man for himself' will rapidly degenerate into a free-for-all that would prove worse than any pandemic" (Fratelli Tutti, 36). Amid the tempests we are currently experiencing, such isolation will not save us." [1]

"There will be no peace without sharing and acceptance, without a justice that ensures equity and advancement for all … There will be no peace unless peoples extend a hand to other peoples. There will be no peace as long as we see others as them and not us. There will be no peace as long as our alliances are against others, for alliances of some against others only increase divisions." [1]

"Heaven thus imparts a message of unity: the Almighty above invites us never to separate ourselves from our neighbors. The otherness of God points us towards others, towards our brothers and sisters. Yet if we want to preserve fraternity, we must not lose sight of heaven. May we – the descendants of Abraham and the representatives of different religions – sense that, above all, we have this role." [1]

"Brothers and sisters of different religions, here we find ourselves at home, and from here, together, we wish to commit ourselves to fulfilling God's dream that the human family may become hospitable and welcoming to all his children." [1]

"As children of Abraham, Jews, Christians and Muslims, together with other believers and all persons of good will, we thank you for having given us Abraham, a distinguished son of this noble and beloved country, to be our common father in faith." [1]

"The way that heaven points out for our journey is another: the way of peace. It demands, especially amid the tempest, that we row together on the same side. It is shameful that, while all of us have suffered from the crisis of the pandemic, especially here, where conflicts have caused so much suffering, anyone should be concerned simply for his own affairs." [1]
Pope Francis constantly spoke of Abraham as "our common father in faith." He stressed that it is this connection to Abraham that unites Christians, Jews, and Muslims. However, Jesus clearly taught that it was not the carnal descendants that counted, or our fleshly connection to Abraham that mattered. What matters to God is whether you are the spiritual seed of Abraham. In fact, Jesus denied that the Jews of His day were the true children of Abraham because they did not live his life or manifest his same character. Read John 8:37-44.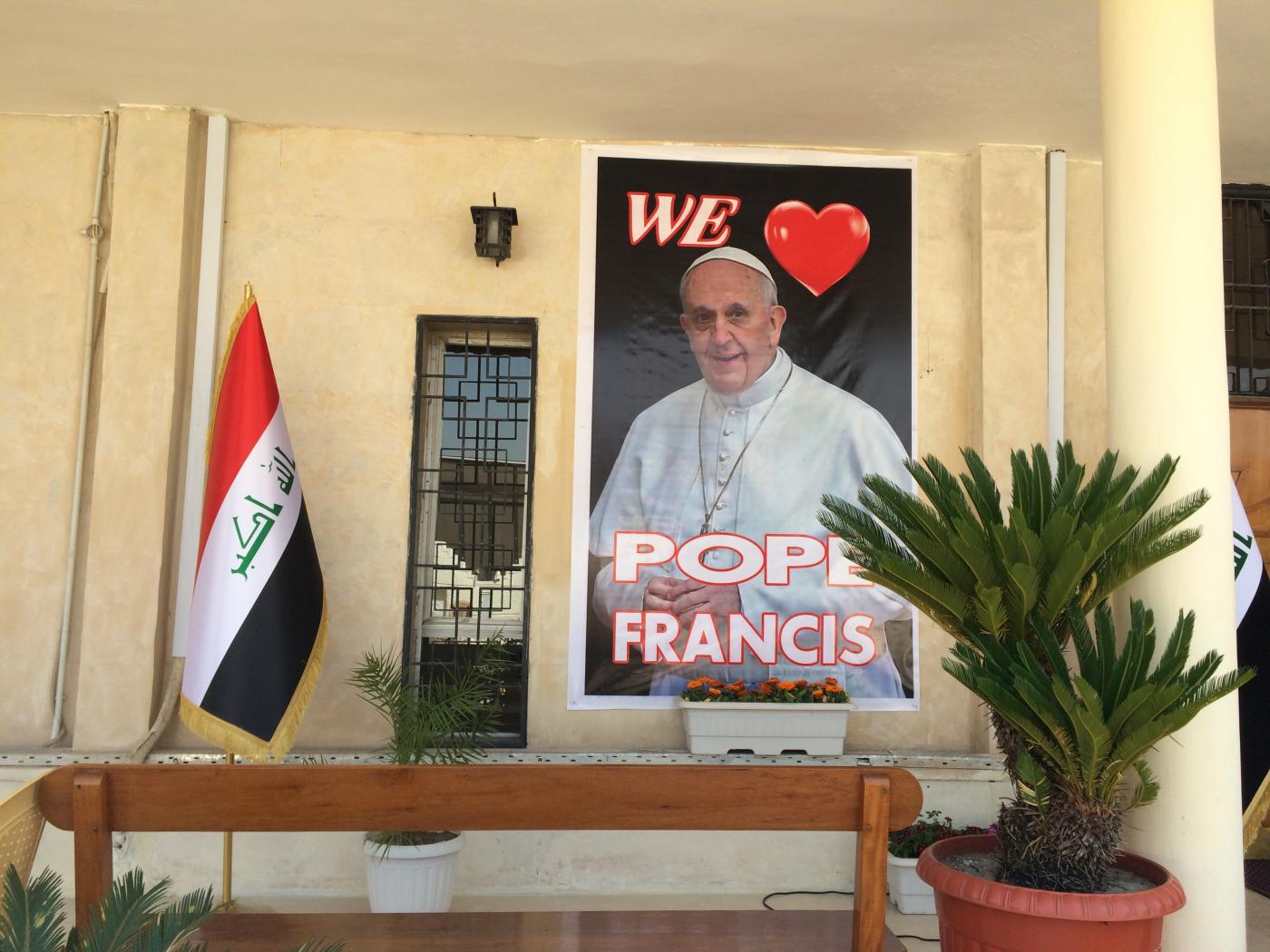 If Pope Francis were a true representative of Jesus on earth, he would have shared the wonderful news that Abraham had accepted Christ, embraced Him and rejoiced to meet Him:
"Your father Abraham rejoiced to see my day: and he saw it, and was glad. Then said the Jews unto him, Thou art not yet fifty years old, and hast thou seen Abraham? Jesus said unto them, Verily, verily, I say unto you, Before Abraham was, I am." John 8:56-58.
In other words, Abraham received Christ. Abraham embraced Christ. Abraham rejoiced to see Christ. So how can Muslims and Jews who reject Christ as God's atonement for sin be the children of Abraham, if Abraham accepted Jesus?
In Galatians 3:29, Paul reiterates this same truth by declaring that those who are in Christ are the true children of Abraham. If the Pope would actually preach the gospel as he is supposed to, he would have included men and women of all nations who do not have a direct lineage to Abraham, but who are in Christ, as the true children of Abraham.
Then Pope Francis made another theological error. The Pope contradicted the words of Jesus when he made the following statement:
"The greatest blasphemy is to profane his name by hating our brothers and sisters. Hostility, extremism and violence are not born of a religious heart: they are betrayals of religion. We believers cannot be silent when terrorism abuses religion; indeed, we are called unambiguously to dispel all misunderstandings." [1]
Once again, Pope Francis is rewriting God's holy word. Jesus explained very clearly what the greatest blasphemy is. Without doubt, hating your brother is a very serious sin, but even this sin can be forgiven. However, Jesus spoke of a blasphemy that will never be forgiven:
"Wherefore I say unto you, All manner of sin and blasphemy shall be forgiven unto men: but the blasphemy against the Holy Ghost shall not be forgiven unto men. And whosoever speaketh a word against the Son of man, it shall be forgiven him: but whosoever speaketh against the Holy Ghost, it shall not be forgiven him, neither in this world, neither in the world to come." Matthew 12:31-32.
Our concern is Pope Francis' attempts to lessen the need to preach the gospel of Christ to Muslims and Jews and his continuing contradictions of the Holy Word. These and other acts (promoting Mother Earth, embracing pantheism, encouraging Sunday laws) actually constitute blasphemy against the Holy Spirit.
Pope Francis also said in the above statement that we cannot be "silent" with "terrorism." We must speak out against "hatred," "extremism" and "violence." He said we cannot be "unambiguous" in our rejection of "abuses of religion." So why didn't the Pope say who the blasphemers were? Why didn't he identify the terrorist? Why so much "ambiguity" in his statements?
Who are the terrorists? Is it the Christians, Jews or Muslims? Who is blowing up decapitating the so-called children of Abraham in the Middle East? It's not the Christians or the Jews? Why doesn't Pope Francis have the courage to tell us that it is radical Islamic terrorists who are persecuting Christian minorities in Iraq? Why doesn't he speak up for the persecuted? This is causing confusion by blaming everyone rather than identifying who the real terrorists are.
The reason we think that Pope Francis will not say that radical Islamic terrorists are the problems in the Middle East is because he believes that conservative Christians are equally problematic. In his eyes, those who will not support Laudato Si' or Fratelli Tutti are equally responsible for all the trouble in the world. And those who still believe in biblical truth (divine revelation) above the Pope's humanist philosophies are the greatest terrorists in his eyes.
We live in the days when the following biblical mandate must be followed. We can no longer say that "the time will come." The days described in the following Bible verses are here already:
"Preach the word; be instant in season, out of season; reprove, rebuke, exhort with all long suffering and doctrine. For the time will come when they will not endure sound doctrine; but after their own lusts shall they heap to themselves teachers, having itching ears; And they shall turn away their ears from the truth, and shall be turned unto fables." 2 Timothy 4:2-3.
Sources
[1] https://press.vatican.va/content/salastampa/en/bollettino/pubblico/2021/03/06/210306a.html
[2] https://www.iqiraq.news/society/13103–.html