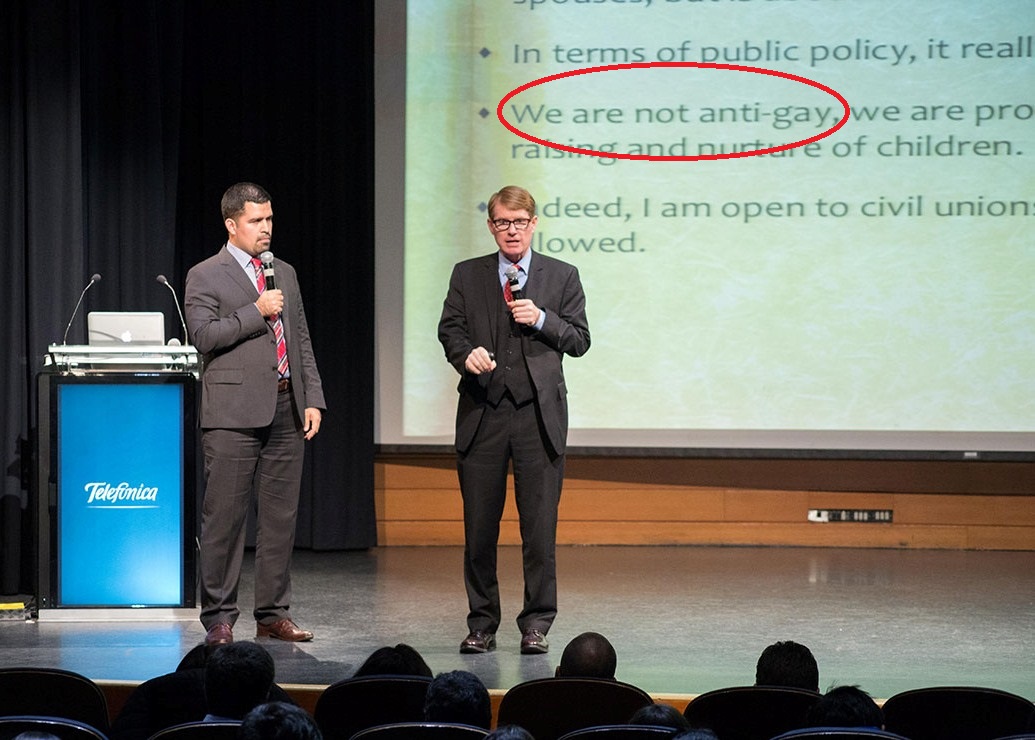 In this image, Nicholas Miller, from the Public Affairs and Religious Liberty Department for the Lake Union Conference of Seventh-day Adventists and professor at Andrews University, stands in front of his slide "We are not anti-gay" (we've highlighted it in red) during a religious freedom forum in Santiago, Chile. [1] This image summarizes the sad and current state of affairs that we are seeing in many places within the church. The image also summarizes the new "Fairness For All Act" being promoted by the North American Division and the General Conference.
Church leaders are playing it safe by embracing a middle ground and the feel-good compromise of deliberate ambiguity when it comes to the moral issues of the day. On the one hand, Seventh-day Adventists believe that marriage is between a man and a woman. On the other hand, they tell you that we are not anti-gay. On the one hand we say that we believe in life, but on the other hand we are not anti-abortion. In other words, we don't focus on what we are against because that would be negative; we only talk about what we support and in doing so we focus only on the positive.
That is a very popular approach that many people adopt. In this way we can be at peace with everyone. However, there is a small problem with taking this position: God is anti-gay. He is anti-gay in the sense that He is opposed to homosexual relationships in any context. Period. And it doesn't matter if homosexuality is within a theocracy or in a secular society or even in our godless generation, God still opposes it. In fact, God will always oppose the LGBT+ lifestyle and there will never be a time when God will tell us that homosexuality is okay and that we can codify this sin into law.
But religious liberty leaders in the North American Division and in the General Conference believe otherwise. Seventh-day Adventist leaders have responded to the recent decision by the United States Supreme Court to protect gay and transgender rights by federal law. [2] The church has responded by promoting its own "Fairness For All Act". [3]
The Seventh-day Adventist Church's "Fairness For All Act" would not only codify bisexuality and homosexuality into federal law, but it would also offer certain protections for churches. [4] It is a compromise. It would do everything the United States Supreme Court has just approved, but with exemptions for churches, not for private companies, schools, or government entities.
Today, the General Conference and others in the North American Division are trying to raise the rainbow banner of the LGBT+ movement along with the banner of Christ inscribed with God's commandments (Revelation 14:12). We are promoting religious liberty for us and a sexual revolution for the world. The church's compromise and silence in the face of this monstrous apostasy of legalizing sin will cause us to share in the guilt of those who are lost.
There is a deafening silence from our pulpits by people-pleasing preachers who seek a middle ground on the moral questions of God's law. Sitting on the fence is a comfortable position to be in. Everyone will like us except God. Remember, God told the comfortable church in Laodicea that their neutrality makes Him sick (Revelation 3:16). God not only stands for justice; He also opposes sin and iniquity and speaks against it. Notice what the Bible says about Jesus:
"But unto the Son he saith, Thy throne, O God, is for ever and ever: a sceptre of righteousness is the sceptre of thy kingdom. Thou hast loved righteousness, and hated iniquity; therefore God, even thy God, hath anointed thee with the oil of gladness above thy fellows." Hebrews 1:8, 9.

"If the world hate you, ye know that it hated me before it hated you. If ye were of the world, the world would love his own: but because ye are not of the world, but I have chosen you out of the world, therefore the world hateth you." John 15:18, 19.

"The world cannot hate you; but me it hateth, because I testify of it, that the works thereof are evil." John 7:7.
Do we care more that the world loves us or will we warn sinners to flee from the wrath to come?
"Deal faithfully with wrongdoing. Warn every soul that is in danger. Leave none to deceive themselves. Call sin by its right name. Declare what God has said in regard to lying, Sabbathbreaking, stealing, idolatry, and every other evil. 'They which do such things shall not inherit the kingdom of God.' Galatians 5:21. If they persist in sin, the judgment you have declared from God's word is pronounced upon them in heaven. In choosing to sin, they disown Christ; the church must show that she does not sanction their deeds, or she herself dishonors her Lord. She must say about sin what God says about it. She must deal with it as God directs, and her action is ratified in heaven" (Desire of Ages, p. 805).
Sources
[1] https://noticias.adventistas.org/es/noticia/liberdad-religiosa/encuentro-de-libertad-religiosa-promueve-fidelidad-a-dios/
[2] http://adventmessenger.org/the-us-supreme-court-has-just-redefined-sex-to-include-gender-ideology/
[3] https://www.nadadventist.org/news/seventh-day-adventist-church-responds-us-supreme-court-employment-decision-impacting-religious
[4] http://adventmessenger.org/seventh-day-adventists-are-supporting-legislation-that-aims-to-codify-bisexuality-and-homosexuality-into-federal-law/