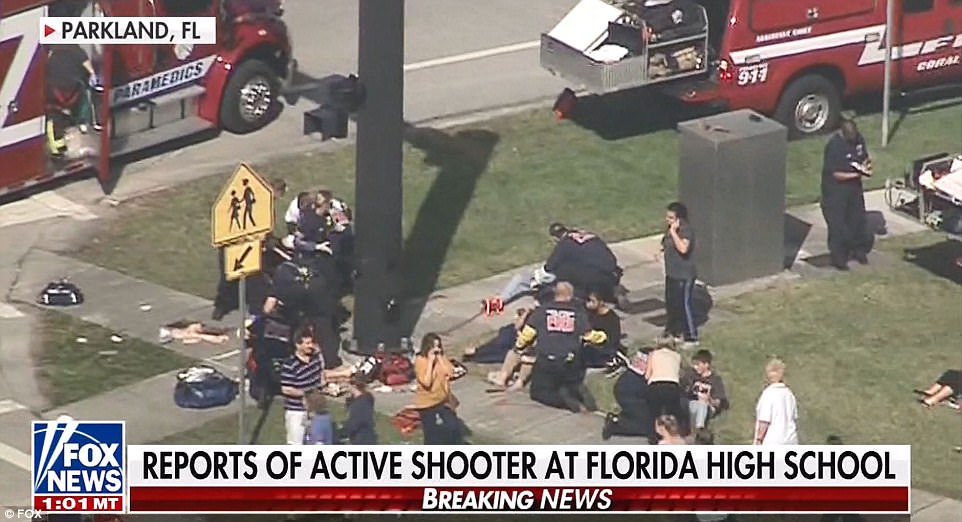 The latest in a series of school massacres took place on Valentine's Day when a 19-year-old entered his former high school in Parkland, Florida with a military-type assault rifle and murdered at least 17 people and wounded 14 others. He pulled the fire alarm and waited for people to pour into the hallway before shooting.
What is so upsetting about this senseless tragedy is that it could have been avoided. This terrible massacre occurred despite the fact that the FBI had previously been alerted to social media posts where the shooter had bragged about how he was going to shoot up a school. The FBI had also received a second tip alerting them that the shooter was amassing weapons to target a school. This massacre happened despite the fact that all the kids at this school believed they would one day be attack by the shooter.
This massacre still happened despite the fact that the shooter posted daunting pictures on social media of himself with assault rifles, knives and ski masks. Even after the fact that he was suffering from mental health issues and had an obsession for guns, even after the police was called to his house 39 times, even after this troubled teen was kicked-out of school for threatening staff and students and even after being identified as a threat – how in the world was this former student able to commit this massacre? What in the world needs to happen for the authorities to take these threats seriously?
These poor school kids never had a chance! That is what's so sickening about this massacre. School officials and law enforcement are totally complicit for not taking this obvious threat much more serious. No security measures were taken to protect the community or the schools.
Why wasn't he arrested or at least had his access to guns revoked for threatening to shoot up a school? If the authorities are going to allow this kind of person to purchase military grade assault weapons then they had better send armed guards to protect our schools. This shooter should never have been allowed to roam free while making these kinds of threats. This was a moral failure on the part of the authorities for failing to protect its most innocent and precious citizens.
Your local Walmart Super Center has better protection. They have armed police officers protecting their stores at night. There is armed protection at airports, banks, courthouses, business complexes and other governmental buildings. But our most important treasures, our children, are not being protected. It has become obvious that our kids, while congregated together in school, have become targets for acts of domestic terrorism.
First you had the Columbine School Massacre, then the Sandy Hook Elementary School Massacre and now we have the Parkland, Florida High School Massacre. In between these, you have the Marysville, Washington school shooting, the Aztec High School Shooting in New Mexico and the recent Benton, Kentucky incident.
Schools and children are being targeted and nothing is being done to protest their lives. Evil minds are targeting our schools and we can't just wait for the next would-be shooter to plan the next school massacre. And instead of protecting our schools with armed police guards, kids across America are sittings ducks in gun-free school zones waiting to become the shooting targets for the next tragedy. Sick, criminals know this and that is why schools are easy targets.
Christ has a concern for the "little ones." He is displeased when we neglect to protect His little ones. Our nation will have to one day give an account and reap the rewards for failing to protect its most innocent.
"Take heed that ye despise not one of these little ones; for I say unto you, That in heaven their angels do always behold the face of my Father which is in heaven." Matthew 18:10.