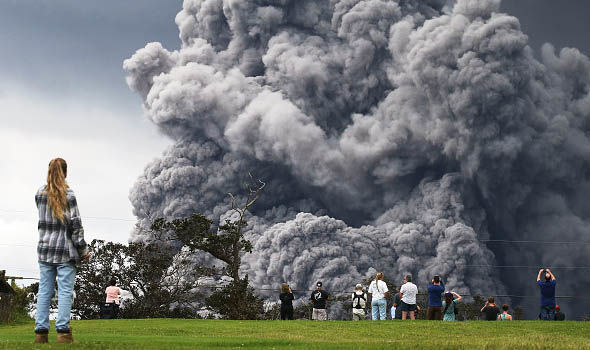 "All these are the beginning of sorrows." Matthew 24:8.
We haven't seen anything like this before. During the last 30 days the Hawaiian Islands have been struck with over 12,000 earthquakes. It is a phenomenon that has no modern or ancient equivalent that we know of.
Looking at the number of earthquakes in such a small concentrated area is worrying when you consider the attitude that many people have taken. Instead of fleeing the area and evacuating the imminent danger of toxic gas, flowing lava and hot ash – many curious thrill-seekers are trying to get up close and take selfies in the danger zones. For a price, many locals are taking tourists by boat and bringing them up close to where the lava is flowing into the sea. What has our world evolved into?
Then there is the volcano in Guatemala that buried entire towns and burned over 300 people alive, including entire families. Giant deadly clouds of super-heated ash and smoke with temperatures as high as 1,300 degrees have decimated entire villages. 1.7 million people were directly affected while another 12,000 were forced to evacuate. Sadly, many people didn't even get a chance to escape.
These tragedies are far from over; they are just developing. This is only the beginning of sorrows because far more terrible calamities are coming. What we are seeing today is small in comparison to what is about to break upon our world. Something is happening to our earth. Natural disasters are happening with much greater frequency and intensity and every indication is that we are entering a period of great instability.
"In fires, in floods, in earthquakes, in the fury of the great deep, in calamities by sea and by land, the warning is given that God's Spirit will not always strive with men" (Last Day Events, p. 26).
"Soon grievous troubles will arise among the nations—trouble that will not cease until Jesus comes" (Maranatha, p. 25).
There is no question that our planet is in trouble. Its inhabitants are wounded and the people are suffering. Why? We have tragically turned our backs to the only One who can heal both the people and our land:
"If my people, which are called by my name, shall humble themselves, and pray, and seek my face, and turn from their wicked ways; then will I hear from heaven, and will forgive their sin, and will heal their land" (2 Chronicles 7:14).