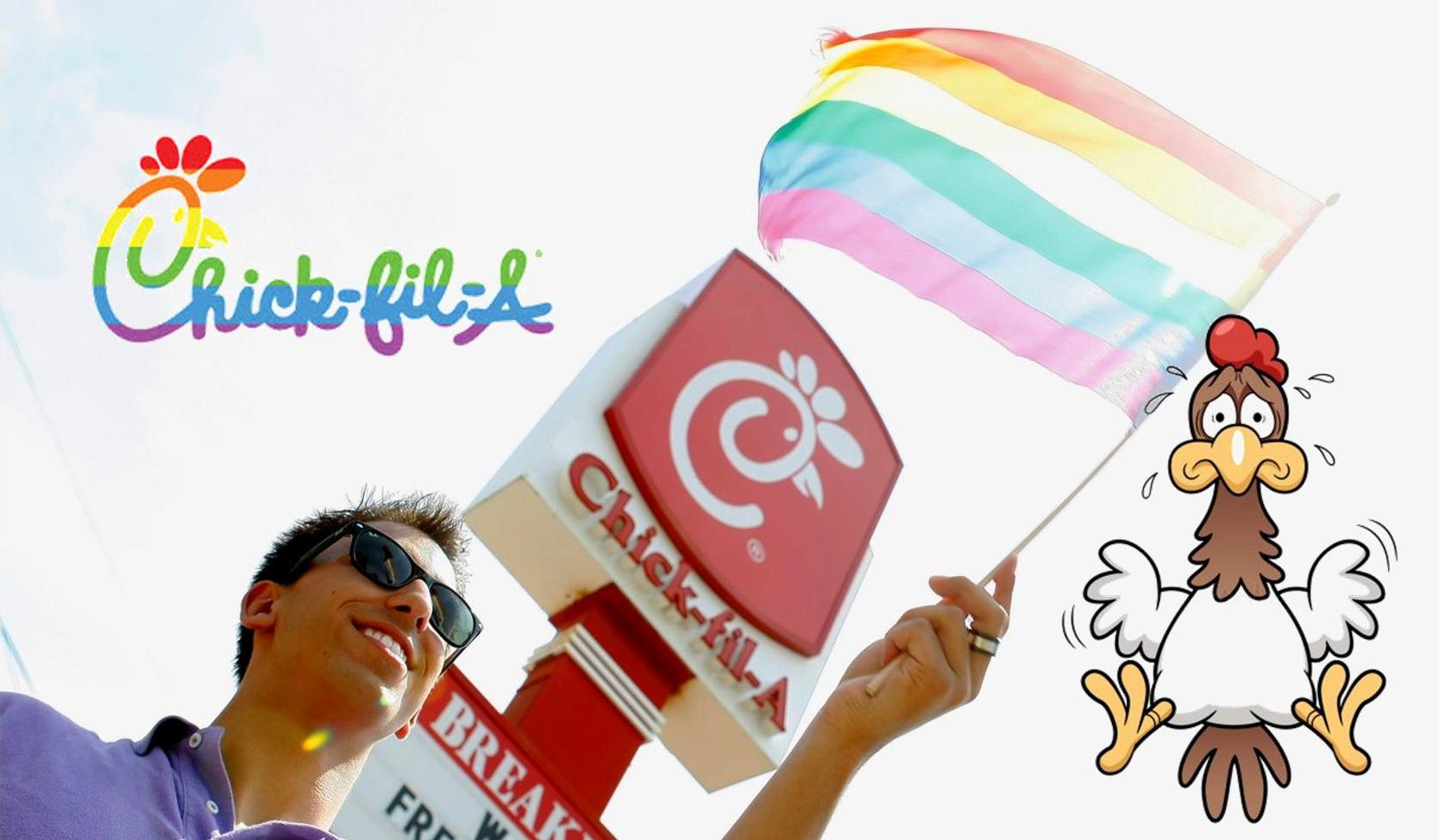 "A righteous man falling down before the wicked is as a troubled fountain, and a corrupt spring." Proverbs 25:26.
Chick-fil-A is a Christian-owned restaurant chain that once stood up for family values. Chick-fil-A used to disavow the LGBT+ agenda by donating millions of dollars to several religious charities that opposed gay marriage. [1] Chick-fil-A's position on sexuality sparked a backlash from the LGBT+ mafia as they responded with an aggressive campaign to protest the company's stance on traditional marriage.
President and Chief Operating Officer for Chick-fil-A Dan Cathy created a firestorm when he said the following words during a 2012 interview:
"I think we are inviting God's judgment on our nation when we shake our fist at Him and say, 'We know better than you as to what constitutes a marriage.' I pray God's mercy on our generation that has such a prideful, arrogant attitude to think that we have the audacity to define what marriage is about." [2]
The LGBT+ movement responded with boycotts and protests. Christians across America strongly supported them as their business continued to grow. That was seven years ago. Today, Chick-fil-A has capitulated to the LGBT+ pressure and has decided to stop its charitable donations to Christian organizations deemed to be anti-LGBT+. [3]
They have determined to put profits above Christian principles. Like many lukewarm Christians, Chick-fil-A has decided to remain silent on the issue of homosexuality. They have turned their backs on their Christian customers who have flocked to defend and support the fast-food chain. We fully expect secular companies such as Google, Amazon, Disney and others to push the pro-homosexual agenda, but when "Christian" organizations bow to LGBT+ militants this is concerning. One after another the world is succumbing to the radical, leftist, liberal, anti-biblical sexual revolution.
The LGBT+ movement is still not happy with Chick-fil-A's new position. They are now calling on Chick-fil-A to become LGBT+ friendly and publicly disavow its past anti-LGBT+ reputation. [4] This is what they want from all Christians – to be pro-LGBT+ and disavow God's word. You cannot appease, capitulate and compromise with anti-Christian radicals. They are never satisfied. Once they smell blood they want to go for the kill. Persecution is coming. In some cases it's already here. We need to be ready. All this in emboldening the LGBT+ movement to continue their war against God, the Bible and Christian organizations.
Sources
[1] https://www.huffpost.com/entry/chick-fil-a-anti-gay-group-donations-_n_1644609?
[2] https://www.businessinsider.com/chick-fil-a-admits-its-against-gay-marriage-2012-7
[3] https://www.dailywire.com/news/report-chick-fil-a-to-stop-donating-to-christian-charities-branded-anti-lgbt
[4] https://disrn.com/news/glaad-says-chick-fil-a-donation-shift-not-enough-company-needs-to-unequivocally-speak-out-against-anti-lgbtq-reputation