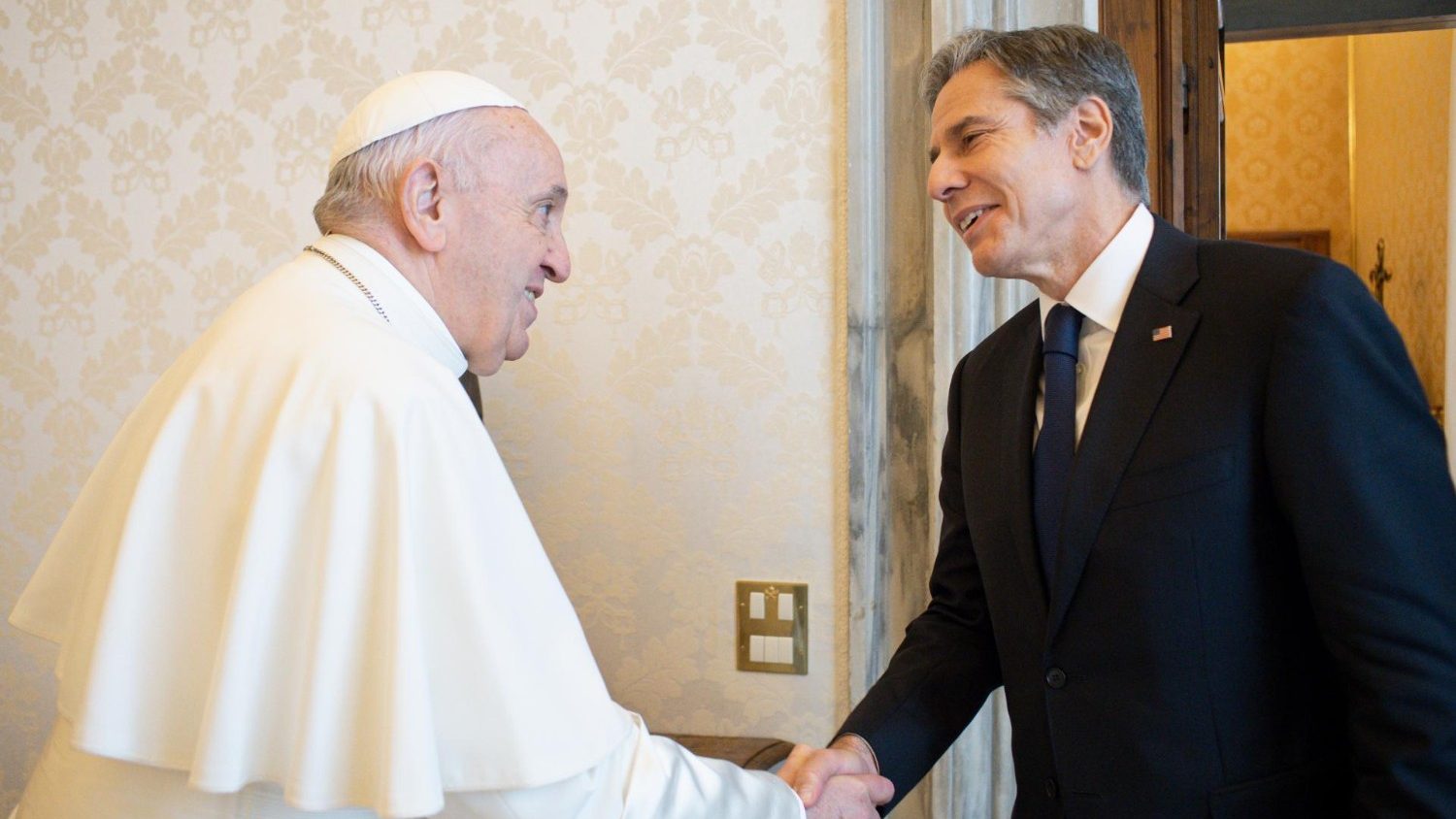 Pope Francis met with U.S. Secretary of State Antony Blinken at the Vatican on Monday, June 28, 2021. Vatican Spokesperson Matteo Bruni stated that the meeting was "cordial" and that Pope Francis "expressed his affection and attention to the people of the United States of America." Secretary Blinken and Pope Francis also discussed the "possibility of working together to address global challenges" and the need to "tackle the climate crisis." [1]
It was my great honor to meet today with His Holiness @Pontifex in Vatican City. I am extremely grateful for his leadership and commitment to tackling the climate crisis and promoting human rights and human dignity around the world. pic.twitter.com/KetBbGnhBG

— Secretary Antony Blinken (@SecBlinken) June 28, 2021
This meeting took place to "prepare" for the 2021 United Nations Climate Change Conference, also known as COP26, which is scheduled to be held in the city of Glasgow, UK from October 31, 2021 to November 12, 2021. Pope Francis has already told world leaders planning to attend COP26 to "act now" and implement an "effective agreement" to end the "climate crisis." [2] Pope Francis also stressed that "time is running out" to "fight against climate change" and promote the "universal common good." [3] And a failure to do so, according to the Pope, would result in God sending another "world wide flood." [4]
Pope Francis is fulfilling his promise to pressure the kings of the earth (Revelation 17:12, 13) to endorse his 'Laudato Si' climate change encyclical. Eventually, the plan is to force (Revelation 13:12) the different world leaders to act and implement certain policies in their respective countries. What we see in the book of Revelation is a very close and intimate working relationship between these last two great superpowers of prophecy – the United States and the Vatican. This union together with the Sunday rest provision contained in Laudato Si' (section #237) contains the prophetic end-time criteria given to us in the Bible and Spirit of Prophecy.
Former President Donald Trump and his administration took a completely different view of the climate crisis from the one advocated by the Joe Biden administration and the Vatican. President Trump told the globalists at the World Economic Forum in Davos, Switzerland, that the proponents of climate change are the "prophets of doom" and the "fortune tellers" who are embracing "error." [5] This is probably one of the reasons why his presidency came to an end. He was getting in the way of the great global reset.
 "And he [USA] exerciseth all the power of the first beast [Rome] before him, and causeth the earth and them which dwell therein to worship the first beast [Rome], whose deadly wound was healed." Revelation 13:12.
An unholy alliance is forming as these two powers have now committed to working together to implement Roman Catholic social teaching. God help us as the United States and the Vatican are coming together to fulfill their prophetic roles. Let's work to spread the gospel of Revelation 14:6-12 before it's too late:
"The work which the church has failed to do in a time of peace and prosperity, she will have to do in a terrible crisis, under most discouraging, forbidding circumstances." (Evangelism, p. 31).
Join the conversation and share your thoughts with us below at the bottom of this page. We have opened the comments for you to tell us what you think.
Sources
[1] https://religionnews.com/2021/06/28/pope-francis-and-blinken-discuss-climate-change-china-at-the-vatican/
[2] http://adventmessenger.org/pope-francis-tells-the-united-nations-climate-change-conference-cop26-now-is-the-time-to-act/
[3] http://adventmessenger.org/pope-francis-warning-on-climate-change-time-is-running-out/
[4] http://adventmessenger.org/pope-francis-gods-wrath-will-bring-another-world-wide-flood-if-we-dont-solve-the-climate-crisis/
[5] https://www.cnn.com/2020/01/21/politics/donald-trump-davos-speech-climate-change/index.html