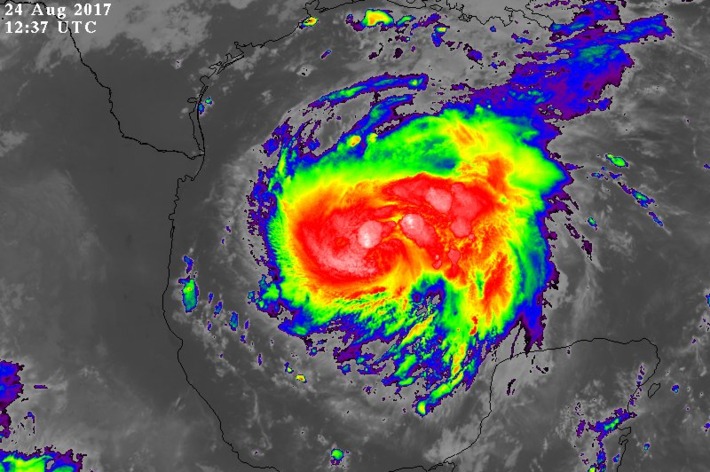 "The earth mourneth and fadeth away, the world languisheth and fadeth away, the haughty people of the earth do languish. The earth also is defiled under the inhabitants thereof; because they have transgressed the laws, changed the ordinance, broken the everlasting covenant." Isaiah 24:4, 5.
First there was the terrorist attack in Barcelona, Spain, then we had the riots in Charlottesville, VA and Phoenix, AZ. Right after this we had a one-in-a-lifetime solar eclipse that cut across the entire country of America and now we have catastrophic flooding coming to Texas as a life-threatening storm is scheduled to make landfall.
Tropical storm Harvey is strengthening and will likely become a category 3 major hurricane and is projected to bring damaging winds, ocean surge, flash flooding and up to 30 inches of rainfall. Texas has already been hit with historic flooding. The rivers and lakes are already full. It only takes 5 inches of rain to bring serious flooding to the area and the projected rain does not look good for the state.
Hotels are all booked, gas is running out, grocery stores are out of food and water, the roads and highways are at a gridlock and the people are in panic mode. This storm has the potential to bring a devastating crisis to millions of people.
Our thoughts and prayers go out to all those who have not heeded the warnings and have stayed behind to weather the storm. Many will lose their homes and there is the potential for the loss of life. We hope that everyone in Texas and beyond will see this storm as an urgent matter and take whatever measures are necessary to protect themselves and their families. May God bless and keep you all safe.
"In accidents and calamities by sea and by land, in great conflagrations, in fierce tornadoes and terrific hailstorms, in tempests, floods, cyclones, tidal waves, and earthquakes, in every place and in a thousand forms, Satan is exercising his power. He sweeps away the ripening harvest, and famine and distress follow. He imparts to the air a deadly taint, and thousands perish by the pestilence. These visitations are to become more and more frequent and disastrous. Destruction will be upon both man and beast." (Great Controversy, 589).