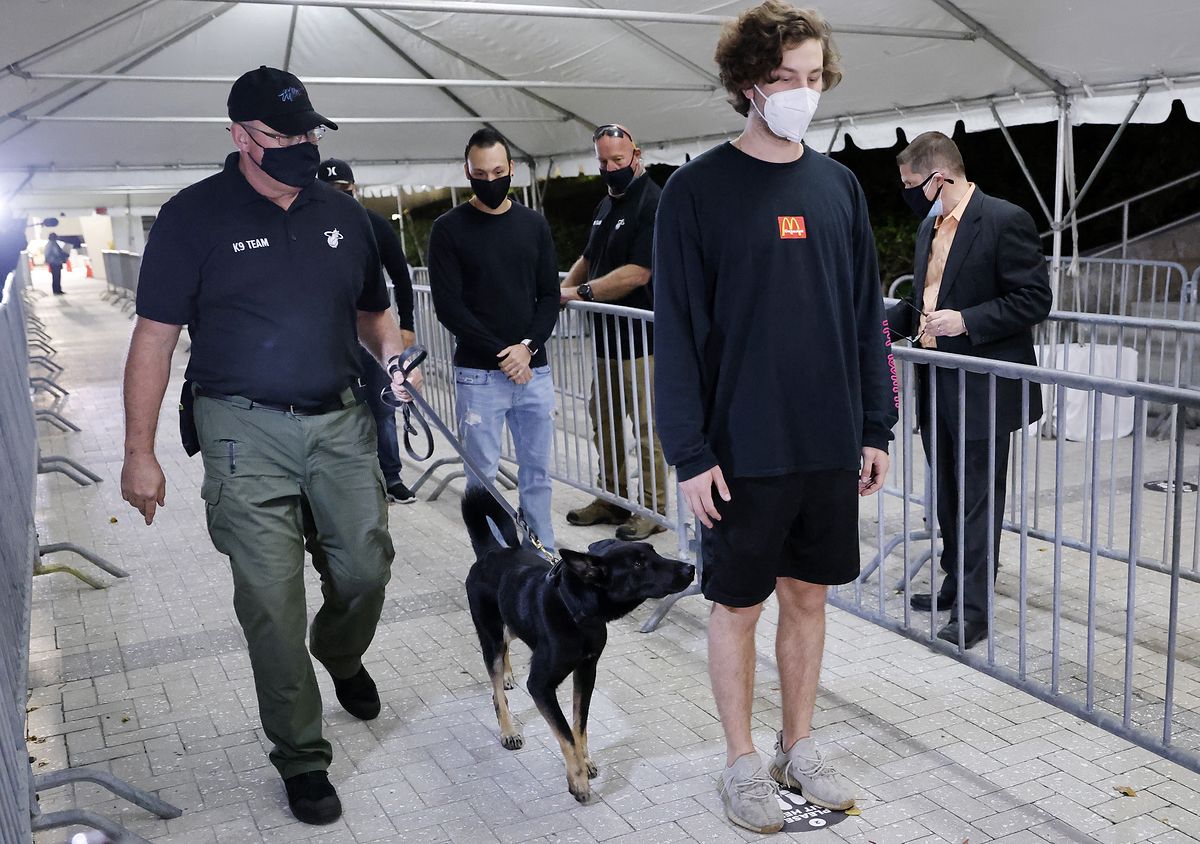 Massachusetts Police have added special dogs trained to sniff out Covid-19 to their law enforcement department. The Bristol County Sheriff's Office is describing these Covid-19 sniffing dogs as part of their "decontamination tool." The department said it will use these "four-legged officers" to sniff out people with Covid-19, similar to how dogs can detect "drugs and weapons." The dogs were reported to be available for "schools, town buildings, non-profits, nursing homes, public safety facilities, and medical facilities." [1]
Our civil liberties are deteriorating to the lowest point we have ever seen. Covid-19 sniffing dogs will now be used to further erode our freedoms. Soon we may see dogs stationed at grocery stores, schools, restaurants, airports, churches and other crowded venues. The Covid-19 police with their dog-sniffing unit will be there to randomly sniff our backsides. God forbid the dogs single you out and begin barking as you walk by. Not only will you be denied entry, not only will you not be allowed to purchase food or enter the restaurant, but you would be labeled a threat to the community and as a person carrying a deadly disease.
What will happen next? Will they enter our information in a national database. And if our name is on an "unvaccinated" list, will we be taken against our will to a quarantine facility for the good of the nation. You may say, "That couldn't happen." It has happened before under Nazi Germany. Nazi Germany used dogs; they separated people from their friends and family; they placed people in concentration camps; and the people were not given any recourse or due process.
President Joe Biden recently announced that a federal "door-to-door effort is needed to try to administer the COVID-19 vaccine to reluctant Americans." [2] Will they bring their Covid-19 sniffing dogs and tell us the dogs are for our own good? And if the dogs sniff us out, will we be dragged away under the pretext of protecting national security? Will we be arrested and interned in some "rehabilitation" camp that includes indoctrination?
These dogs trained to detect Covid-19 are reported to be available to "non-profit" organizations. Are they talking about churches? We know that the General Conference of Seventh-day Adventists has been in lock-step with the CDC and told us to trust the science and get vaccinated. How long will it be before the General Conference tells us, "Trust the dogs. The dogs are your friends. They are there to protect you. It is for the common good."
There is another problem that I see with the use of dogs to invade the privacy of our citizens, and this has to do with using these poor animals to diagnose Covid-19. BBC News reported that pets can get Covid-19 from people. [3] This is very unfair and discriminatory to the Covid-19 sniffing dogs. These wonderful, innocent puppies and dogs will be exposed to the virus, and they themselves could catch Covid-19 by sniffing at people all day. Where are the animal rights activists and why are they not working to shut down this abusive Covid-19 dog program? The last thing we need, and maybe it's already being developed in some lab, is a deadly new doggie variant mutation of Covid-19 that spreads even faster than the Covid-19 strains we have now and is resistant to the latest vaccines. This would only result in more vaccinations for the people and more lockdowns.
However, there is a more sinister side to what we are seeing with these new Covid-19 police dogs. Although Covid-19 is not the mark of the beast, we can see how the strong arm of the state can use a crisis to prohibit people from buying and selling. This is part of the Great Reset apparatus and a precursor to the biblical mark of the beast when church and state will come together to enforce laws that everyone must abide by. Arbitrary force will be used again and the buying and selling will only be permitted to those who comply:
"And he causeth all, both small and great, rich and poor, free and bond, to receive a mark in their right hand, or in their foreheads: And that no man might buy or sell, save he that had the mark, or the name of the beast, or the number of his name." Revelation 13:16, 17.
Sources
[1] https://boston.cbslocal.com/2021/07/15/bristol-county-sheriff-covid-sniffing-dogs/
[2] https://www.wmur.com/article/nh-republican-legislative-leaders-blast-bidens-call-for-door-to-door-vaccination-effort/36992722#
[3] https://www.bbc.com/news/health-57666245