"My spirit shall not always strive with man." Genesis 6:3.
"Everything in the world is in agitation. The signs of the times are ominous. Coming events cast their shadows before. The Spirit of God is withdrawing from the earth, and calamity follows calamity by sea and by land. There are tempests, earthquakes, fires, floods, murders of every grade (Desire of Ages, p. 636).
The "once-in-a-lifetime" and "never-before-seen" disasters are piling up on top of each other – one after another. The loudest voices being heard today say that nothing significant is happening. They tell you not to worry about the non-stop, horrific events taking place today. The proud, boastful pleasure-seekers say, "All things continue as they were from the beginning." 2 Peter 3:4. Godless men who are void of knowledge say, 'Tomorrow shall be as this day, and much more abundant." Isaiah 56:12. By these words the scorners and rejecters of truth are putting people fast asleep into a false sense of carnal security.
Many refuse to see that the signs of the end-times which Jesus spoke of are coming to pass before our very eyes. There are those who laugh at any notion that prophecy is being fulfilled in relation to the recent (1) 2018 historic fire season, the (2) 2018 historic hurricane season, the (3) 2017 and 2018 historic flooding, the (4) historic liberal and moral collapse of the churches, the (5) historic political divide and polarization in America, the (6) 2015 Obergefell v. Hodges and 2017 Pavan v. Smith US Supreme Court decisions that codified immorality and normalized sin in our nation, the (7) historic mass shootings in CA, PA, FL and other places and (8) the increasing tensions and problems facing the other nations around the world. How can anyone imagine that nothing significant is happening?
"At the very time when the world is asking in scorn, 'Where is the promise of His coming?' the signs are fulfilling. While they cry, 'Peace and safety,' sudden destruction is coming" (Desire of Ages, p. 635).
Many voices are saying that the fires in California, the worst in the sates' recorded history, is due only to dry "grass" and "pine needles" [1] while others say that these devastating fires are due to "climate change." [2]
But the word of God reveals that these recent events, along with others, mean much more. God's word reveals that prophecy is in fact being fulfilled. We are told that these are the "last days" when earth's harvest is ripening for something bigger and much more solemn. We have been warned that while the sweet, restraining Spirit of God is gradually being removed from our world, calamities and disaster will become more frequent and intense:
"The Spirit of God is gradually but surely being withdrawn from the earth. Plagues and judgments are already falling upon the despisers of the grace of God. The calamities by land and sea, the unsettled state of society, the alarms of war, are portentous. They forecast approaching events of the greatest magnitude" (Testimonies, Vol. 9, p. 11).
Many will try to write-off the idea that the prevailing wickedness and the widespread immoral behavior is the cause for all the disasters that are in the land. They will blame anything and everything except their own sins. Let us not forget – as people reject God's word and continually offend His Holy Spirit, they will be left without protection from the evil one. God's say that He will remove His protective hedge from our society and terrible disasters will result:
"What could have been done more to my vineyard (people), that I have not done in it? wherefore, when I looked that it should bring forth grapes, brought it forth wild grapes?" Isaiah 4:4.
"And now go to; I will tell you what I will do to my vineyard (people): I will take away the hedge thereof, and it shall be eaten up; and break down the wall thereof, and it shall be trodden down" Isaiah 4:5.
"And I will lay it waste: it shall not be pruned, nor digged; but there shall come up briers and thorns: I will also command the clouds that they rain no rain upon it." Isaiah 4:6.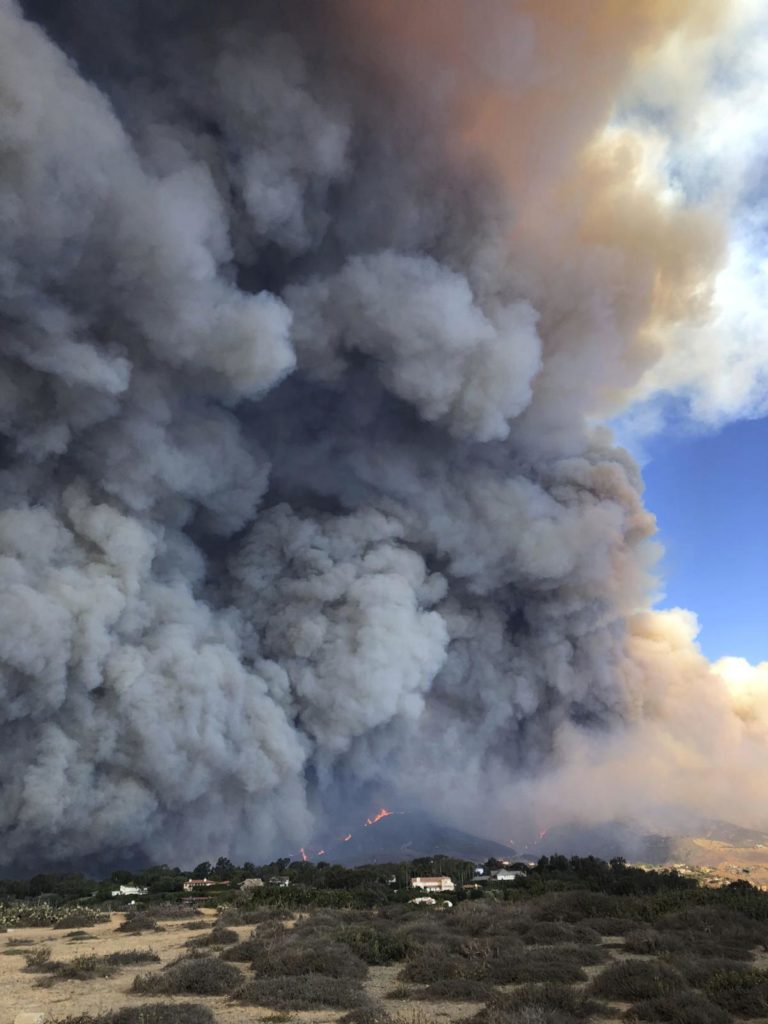 California's 'Negative Rain'
California's 7-year drought is so bad that it has a condition that meteorologists call "negative rain." [3] This together with the hot, dry Santana Ana winds is fueling these deadly infernos. But if you believe in the God of the Bible, you will also know that droughts are part of the curse that befalls the disobedient. And obedience to God's commandments will result in rain, prosperity and safety.
"If I shut up heaven that there be no rain, or if I command the locusts to devour the land, or if I send pestilence among my people; If my people, which are called by my name, shall humble themselves, and pray, and seek my face, and turn from their wicked ways; then will I hear from heaven, and will forgive their sin, and will heal their land." 2 Chronicles 7:13, 14.
So the Biblical solution to these curses is prayer, repentance and a turning away from evil. If we want God to heal our land and send rain in due season, there has to be national repentance followed by national obedience to God's word/law. Only then can we dwell in our land with safety:
"If ye walk in my statutes, and keep my commandments, and do them; Then I will give you rain in due season, and the land shall yield her increase, and the trees of the field shall yield their fruit…and ye shall eat your bread to the full, and dwell in your land safely." Leviticus 26:3-5.
Here God promises us that if we are obedient that not only will we have rain and bread but that we will dwell in our "land safely." What does this mean? It means that all these horrific earthquakes, volcanic eruptions, historic hurricanes, devastating floods, mass shootings and deadly infernos are evidence of how far mankind has drifted away from God's law. If they would open their Bibles and read God's word they would see His warnings:
"And also I have withholden the rain from you, when there were yet three months to the harvest: and I caused it to rain upon one city, and caused it not to rain upon another city: one piece was rained upon, and the piece whereupon it rained not withered." Amos 4:7.
Is this not a clear enough explanation as to what is happening to our world's climate? In some parts of the nation, California, we are experiencing record droughts. Other parts of America, North and South Carolina, we are seeing record floods. It's not "climate change" it's a divine curse that's upon the land meant to turn us away from our disobedience and back to God. But instead of turning to righteousness people will choose to continue in their immoral behavior and the fraud, the lying, the mass killings and all other forms of godlessness will continue:
"Men are still eating and drinking, planting and building, marrying, and giving in marriage. Merchants are still buying and selling. Men are jostling one against another, contending for the highest place. Pleasure lovers are still crowding to theaters, horse races, gambling halls. The highest excitement prevails, yet probation's hour is fast closing, and every case is about to be eternally decided." (Desire of Ages, p. 636).
Our world had become like the days of Noah and Lot and we have been told that destructive fires similar to the ones in Sodom will be seen again:
"God is withdrawing His Spirit from the wicked cities, which have become as the cities of the antediluvian world and as Sodom and Gomorrah…Costly mansions, marvels of architectural skill, will be destroyed without a moment's notice when the Lord sees that the owners have passed the boundaries of forgiveness. The destruction by fire of the stately buildings, supposed to be fireproof, is an illustration of how in a short time earth's architecture will lie in ruins" (This Day With God, p. 152).
These flaming infernos, very similar to the fires of Sodom, will be seen BEFORE the great final day of destruction when Jesus returns.
"I have seen the most costly structures in buildings erected and supposed to be fireproof, and just as Sodom perished in the flames of God's vengeance so will these proud structures become ashes…The flattering monuments of men's greatness will be crumbled in the dust even before the last great destruction comes upon the world" (Last Day Events, p. 111).
An Age of Lawlessness
Is our land being blessed by God? We pray for healing, we pray whenever there's a terrible mass shooting and we pray whenever horrific fires destroy lives and properties. But are we missing something? Is there a reason why our world is being plagued with so much trouble.
"Hear, O earth: behold, I will bring evil upon this people, even the fruit of their thoughts, because they have not hearkened unto my words, nor to my law, but rejected it." Jeremiah 6:19.
Lawless conduct is usually only attributed to the unbelieving who have no fear of the Lord. But there are also many ministers and churches – who in their efforts to disregard the Seventh-day Sabbath commandment – have been preaching for decades that the moral law was nailed to the cross and does not need to be regarded. These pastors who deny God's 10 Commandment Law must share some of the blame for today's wickedness because they have been sowing the seeds of disobedience for generations, and now we are starting to reap this bitter harvest. When people disregard God's law, inevitably they will disregard human law.
"When the standard of righteousness is set aside, the way is open for the prince of evil to establish his power in the earth. Wherever the divine precepts are rejected, sin ceases to appear sinful or righteousness desirable…Those who teach the people to regard lightly the commandments of God sow disobedience to reap disobedience. Let the restraint imposed by the divine law be wholly cast aside, and human laws would soon be disregarded…If the law were not binding, why should any fear to transgress? Property would no longer be safe. Men would obtain their neighbor's possessions by violence; and the strongest would become richest…The civilized world would become a horde of robbers and assassins; and peace, rest, and happiness would be banished from the earth." (Great Controversy, pp. 584, 585).
Sources
[1] https://slate.com/technology/2018/11/california-woolsey-camp-fire-trump-forest-management.html
[2] https://www.breitbart.com/environment/2018/11/12/jerry-brown-blames-climate-change-for-california-wildfires-no-evidence/
[3] https://www.thedailybeast.com/california-fires-fueled-by-negative-rain