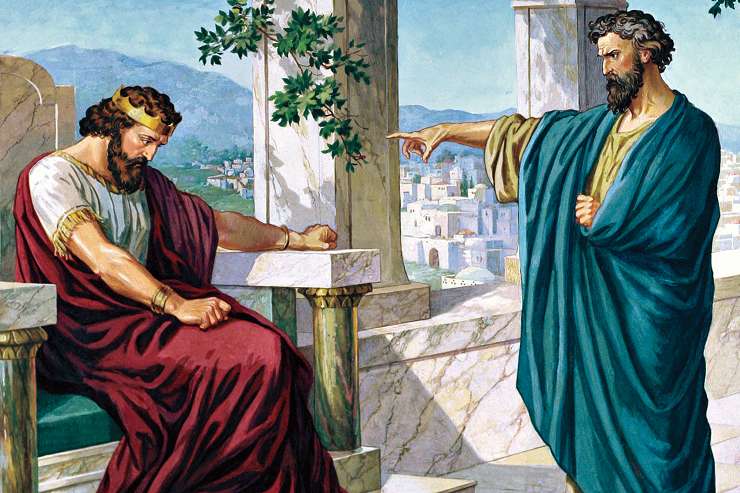 "I hate him; for he doth not prophesy good concerning me, but evil." 1 Kings 22:8.
If Elijah, Jeremiah or John the Baptist were to show up Sabbath morning at some of our churches today they wouldn't even be allowed to come in the front door. They would never be permitted an opportunity to preach in some of our pulpits or speak at some of our universities. Why? Because the prophets of God were often considered to be the bearers of bad news.
Their rebukes and warning messages were misunderstood and rejected by their own people. The prophets who God would raise in times of crisis had to stand alone against the nation because their messages cut deep against the prevailing attitude of the times.
Whenever the church became indistinguishable from the world and whenever the people began to join in and become part of the unregenerate, moral-less society that surrounded them, the Lord would raise up certain prophets, watchmen and sentinels to fulfill their God-give duty of warning the people. Even though their messages were not always well received and at times even considered hateful and hostile – we are thankful that these men of God were faithful to their calling.
These messengers of righteousness were scorned, persecuted and despised by a sin-loving nation, but their life and work were ultimately vindicated by history. Here is one of the best Biblical examples to illustrate how the prophets were accused of bearing "bad news."
In 1 Kings 22 we read of the time when the King of Israel, Ahab, and the King of Judah, Jehoshaphat, were inquiring as to whether or not they should go to war against their enemies. They decided to inquire "of the Lord," so King Ahab brought together 400 prophets and asked them for advice. The 400 prophets were unanimous in their response and they gave a wonderful, praise-worthy report saying that King Ahab would win the battle because "the Lord would deliver" the enemies into their hands.
Notice what happened next. Here is where this story gets interesting:
"And Jehoshaphat said, Is there not here a prophet of the LORD besides, that we might inquire of him? And the king of Israel said unto Jehoshaphat, There is yet one man, Micaiah the son of Imlah, by whom we may inquire of the LORD: but I hate him; for he doth not prophesy good concerning me, but evil." 1 Kings 22:7, 8.
Here you have just "one man" standing alone against 400. Micaiah was the true messenger of the Lord, and he NEVER prophesied anything good about the king! Unlike the 400, Micaiah doesn't tell the king what he wants to hear. Instead, Micaiah tells him the truth – the truth that the king needed to hear. Truths that were characterized as "bad news." And the true message from God was that King Ahab would not prevail in battle.
Because of his faithfulness to his calling Micaiah was hated by the king. He was struck in the face and thrown into prison for reporting bad news. King Ahab didn't like having Micaiah around him because it was uncomfortable having this type of severe and unsociable prophet at his feasts and celebrations. His messages of repentance and judgment were not welcomed.
All true watchmen will be seen by most in the church as the bearers of bad and negative news. It is a very lonely calling. They don't get the nice invitations to the big events. They are not given a spotlight or a platform for addressing the church. Usually the prophets who were sent by God had to appear uninvited when delivering their message.
The false prophets on the other hand were men-pleasers who would tickle the ears of the king and said whatever he wanted to hear. They were the best fed and the best dressed and were given the best seats in the house of Ahab. The false prophets would also hide their heads in the sand and pretended that there wasn't any spiritual crisis in Israel because according to them everything was OK.
Pretending that the omega of apostasy is not sweeping throughout Adventism is not the right response. Pretending that Satan is not engaged in his final assault on God's people is not going to prevent souls from becoming ensnared. Those who only want to hear happy, positive and praise-worthy messages and who believe that there isn't anything significant happening in the church today will be better serviced elsewhere. There are plenty of other ministries and websites that you can visit where you will never hear anything "discouraging," "negative" or "somber." We are not one of those ministries.
Ezekiel chapters 3 and 33 warn that if the watchmen fail to point out the dangers to the people, they will have blood on their hands:
"But if the watchman see the sword come, and blow not the trumpet, and the people be not warned; if the sword come, and take any person from among them, he is taken away in his iniquity; but his blood will I require at the watchman's hand. So thou, O son of man, I have set thee a watchman unto the house of Israel; therefore thou shalt hear the word at my mouth, and warn them from me." Ezekiel 33:6, 7.
We cannot waiver for a moment in proclaiming the warning message even if this means that we will be rejected, despised, mocked, ridiculed and forced to stand alone. In fact, we have been commanded to NEVER stay quiet.
"I have set watchmen upon thy walls, O Jerusalem, which shall never hold their peace day nor night: ye that make mention of the LORD, keep not silence." Isaiah 62:6.
There is a greater need today for a prophetic voice to be heard in the church during this ever-darkening period of earth's history. There is a war raging over the hearts and souls of God's people. Pretending that everything is OK when the counsels of God are being rejected, when His law is being violated and when God's name is put to open shame is not the correct response.
"Those ministers who are men pleasers, who cry, Peace, peace, when God has not spoken peace, might well humble their hearts before God, asking pardon for their insincerity and their lack of moral courage. It is not from love for their neighbor that they smooth down the message entrusted to them, but because they are self-indulgent and ease-loving. True love seeks first the honor of God and the salvation of souls. Those who have this love will not evade the truth to save themselves from the unpleasant results of plain speaking. When souls are in peril, God's ministers will not consider self, but will speak the word given them to speak, refusing to excuse or palliate evil" (Prophets and Kings, p. 141).
All prophets were watchmen, but not all watchmen were prophets. And even though we are not all called to be prophets, we are all called to be watchmen. Let us stay faithful in delivering the word of the Lord, even if it appears to be bad news. There is a huge vacuum in Adventism today that can only be filled by a certain kind of worker.
"The greatest want of the world is the want of men,—men who will not be bought or sold; men who in their inmost souls are true and honest; men who do not fear to call sin by its right name; men whose conscience is as true to duty as the needle to the pole; men who will stand for the right though the heavens fall" (Education, p. 57).