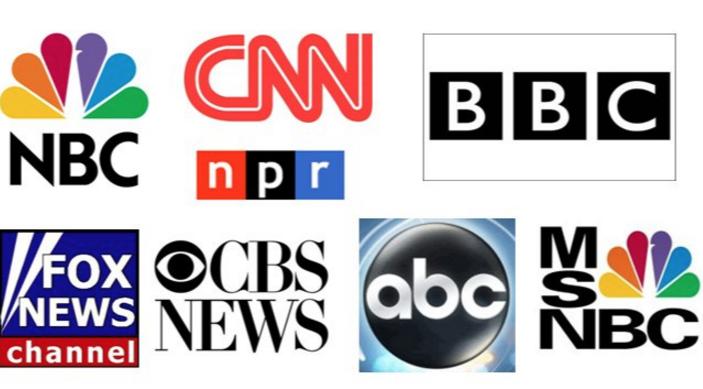 There are certain things that God abhors and looks upon with disgust. Proverbs 6:16-19 describes the top seven sins which God detests. Two of those seven sins are the "lying tongue" and the "false witness that speaketh lies" which can very easily apply to the current mainstream media.
Historically, the job of the news media has been to find stories and report the facts on world events. Our Founding Fathers saw the value of having a free press. This free and independent press meant that the media would be able to report the news without certain political pressures; pressures meant to manipulate and control how the news would be reported.  That is why our Founding Fathers enshrined the freedom of the press into the US Constitution. The First Amendment of the Bill of Rights states that congress shall not make any law restricting the "freedom of speech, or of the press."
As with any freedom, the right of the free press comes with responsibility. There is a difference between a "free" press and a "free-for-all" press. Defamation, lies, slander, malicious gossip, accusations without proof, threats, libel and false statements are not protected by the US Constitution. These are not expressions of  freedom. This kind of "anything goes" speech is hurtful and dangerous and in many cases illegal. In fact, God's displeasure is revealed against those who twist facts and truth and who have a bias as to which truths should or should not be communicated.
"In transgressing and lying against the LORD, and departing away from our God, speaking oppression and revolt, conceiving and uttering from the heart words of falsehood. And judgment is turned away backward, and justice standeth afar off: for truth is fallen in the street, and equity cannot enter. Yea, truth faileth; and he that departeth from evil maketh himself a prey: and the LORD saw it, and it displeased him that there was no judgment." Isaiah 59:13-15.
These versus describe a society that no longer places any value on truth. It describes how many in both the church and the world will relplace God's truths with fables. It is also describing the meltdown of journalistic standards as the mainstream media is replacing truth with propaganda. Fair and honest reporting has been replaced with certain political and ideological agendas. Many in the media will say and do whatever it takes to defend their secular world view on the airwaves. The near total corruption of the press has led us down the path where truth no longer matters. We should earnestly contend for truth; and not just God's truth but truth in journalism, in society and in the dealings between man and his neighbor.
But sadly America is being controlled by a politically motivated, unaccountable "free" press. The media elites are sparing no cost to dethrone the God of heaven and to undo our Biblically-based institutions and culture with secularism. The continual wide-spread bias and suppression of truth by the 24-hour news media cycle can and will ignite the wrath of God upon this nation. Many Christians need to realize that there is a spiritual battle raging among the news channels.
There is a limit to God's mercy and grace when our nation has been reduced to a society whose foundation is based upon lies and deceit. God's word tells us that He will hold us accountable when our daily communications with one another become devoid of truth, honesty and integrity.
"And they bend their tongues like their bow for lies: but they are not valiant for the truth upon the earth; for they proceed from evil to evil, and they know not me, saith the LORD. Take ye heed every one of his neighbor, and trust ye not in any brother: for every brother will utterly supplant, and every neighbor will walk with slanders. And they will deceive every one his neighbor, and will not speak the truth: they have taught their tongue to speak lies, and weary themselves to commit iniquity. Thine habitation is in the midst of deceit; through deceit they refuse to know me, saith the LORD. Therefore thus saith the LORD of hosts, Behold, I will melt them, and try them; for how shall I do for the daughter of my people? Their tongue is as an arrow shot out; it speaketh deceit: one speaketh peaceably to his neighbour with his mouth, but in heart he layeth his wait. Shall I not visit them for these things? saith the LORD: shall not my soul be avenged on such a nation as this?" Jeremiah 9:3-9.