On Saturday, January 25, 2020 a historical "Ecumenical Charter" was signed by Seventh-day Adventists, Roman Catholics, Orthodox, Anglicans, Evangelicals and Methodists. The signing ceremony took place in the San Paolo Maggiore Roman Catholic Church in Bologna, Italy. The document that was signed is a pledge of commitment to each other. Adventists pledged a commitment to Rome, and Rome reciprocated that commitment. Make no mistake. The churches that signed this document promised to uphold the principles of the Ecumenical Charter which includes affirming an allegiance to each other.
• The Ecumenical Charter declares that the church is "one, holy, catholic and apostolic" and therefore the "inescapable ecumenical task consists in making visible this unity."
• The Ecumenical Charter declares that the churches are "called together in the unity of faith."
• The Ecumenical Charter calls for the "visible unity of the Church of Jesus Christ in the one faith and in witness and in common service."
• The Ecumenical Charter says that "the most important task of the Churches is to proclaim the Gospel together through word and action, for the salvation of all human beings."
• The Ecumenical Charter states that the purpose of this document is to "to avoid harmful competition and the danger of new divisions."
• The Ecumenical Charter recognizes "the spiritual gifts of the different Christian traditions" and appeals to every church to "welcome each other's gifts."
• The Ecumenical Charter laments the "painful sign of the division still existing between many Christian Churches" which according to them is due to the "lack of Eucharistic sharing."
• The Ecumenical Charter encourages "ecumenical celebrations, common songs and prayers."
The Ecumenical Charter was signed on the final day of the 2020 Week of Prayer for Christian Unity. A 17-minute sermon was given by Seventh-day Adventist Pastor Giovanni Caccamo to commemorate the ecumenical signing ceremony. [1] Pastor Giovanni Caccamo is the former Secretary of the Italian Union of Seventh-day Adventist Churches. The Ecumenical Charter, the photos, the sermon by SDA Pastor Giovanni Caccamo and the news surrounding this historic event were made available by the Roman Catholic Archdiocese of Bologna. [2]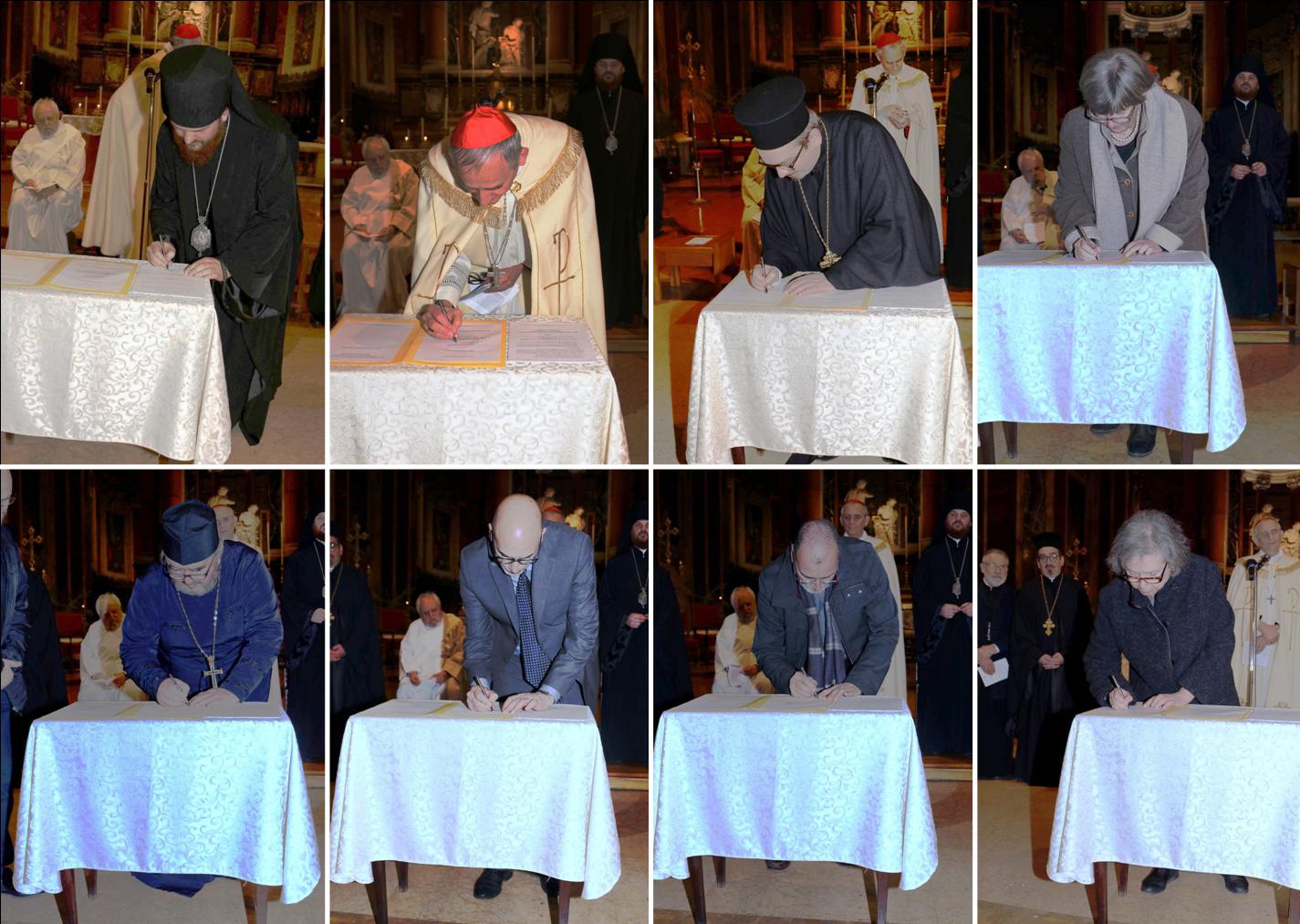 One by one the different leaders including Seventh-day Adventists signed the Ecumenical Charter pledging to commit themselves to its principles. Why would we sign this? Our allegiance must be to God, not to Rome? Our faithfulness must be to the Three Angels' Message, not to Rome's Ecumenical Charter. Our mission is to give His final warning message to the world, not to become part of Rome's "one, holy, catholic apostolic" church.
Not one Seventh-day Adventist news source is reporting on the historic signing of this Ecumenical Charter. You are not going to hear one word about this from Adventist News Network, the Hope Channel, Adventist Review, Liberty Magazine, the Religious Liberty Department or any other church entity.
I will submit to you today that we as a people are in a frightening predicament. I will submit to you today that the Adventist people are being led down the path towards desolation. I do not have to tell you how far off course we have traveled. You can see the evidence right here for yourself.
I will also submit to you that in the face of this monstrous departure from the faith most of our leaders will continue to remain quiet and look the other way. And if they speak at all, it will only be to dismiss this flagrant ecumenical apostasy as nothing serious and denounce those who dare to question these activities.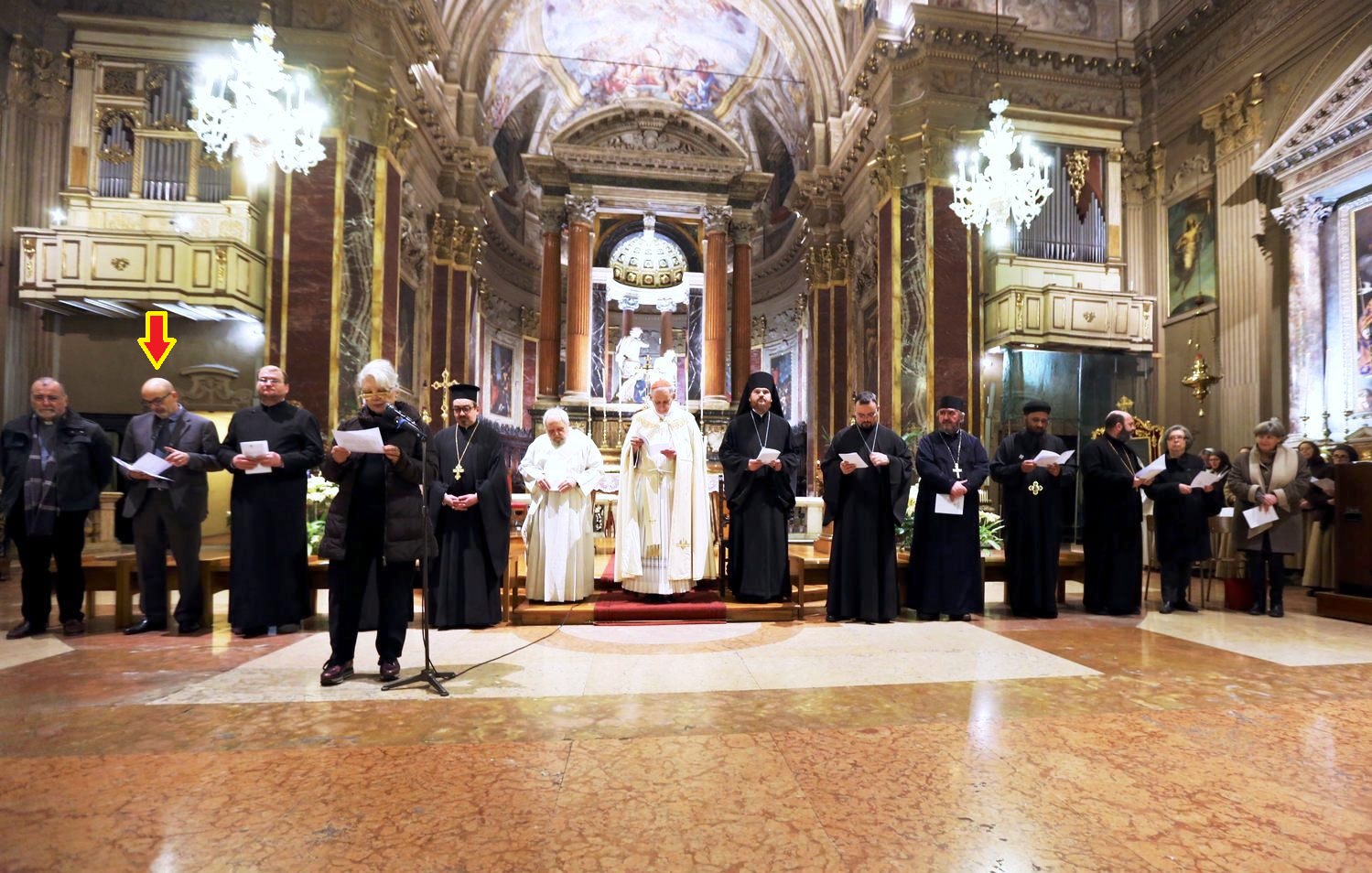 By our apathy, compromise and silence we are fast becoming irrelevant and impotent in the 6,000 year-old controversy between Christ and Satan. We are in a war (Revelation 12:7-9). In this ongoing struggle between good and evil many are joining the ranks of the opposition. Instead of preaching the end-time message with power we are engaging in interfaith trivialities and ecumenical nonsense.
Have we forgotten who we are? We seem to care more about worldly likeability than biblical integrity. We are fast becoming the Chameleon Church instead of the Remnant Church. We want to blend in with the world and be just like them. We desire security, peace, prosperity, honor and praise; but are we giving witness to the present truth of God? Through our silence we have become guilty for our reluctance to defend the law of God that the popular churches – our new loyalty partners – are breaking.
"The Word of God plainly declares that His law is to be scorned, trampled upon, by the world; there will be an extraordinary prevalence of iniquity. The professed Protestant world will form a confederacy with the man of sin, and the church and the world will be in corrupt harmony" (Bible Commentary, Vol. 7, p. 975).
This Ecumenical Charter signed by Seventh-day Adventists is a pledge to form part of this lawless "confederacy" with the "man of sin." This Ecumenical Charter must be publicly repudiated by the Seventh-day Adventist Church. We must proclaim the commandments of God and the faith of Jesus. God's faithful people will stand against the tide of lawlessness and iniquity (not with them) by faithfully preaching Revelation 14:6-12. This is our God-given responsibility, and any failure to accomplish this work is a denial of our sacred trust.
Who is Responsible for This Ecumenical Disaster?
The signing of the Ecumenical Charter and the recent celebration of the UN Interfaith Harmony Week in Rome [5] are two recent events that took place in Italy. Seventh-day Adventists participated in both of these ecumenical events. These were not isolated incidents. There is a long history of ecumenism in Italy, and those responsible for this are at the highest levels of leadership in the church.
Pastor Stefano Paris is the President of the Italian Union of Seventh-day Adventist Churches. He is the top Adventist leader in Italy. [6] [7] Not only does Pastor Stefano Paris oversee the churches throughout Italy, he is also a leading participant in the ecumenical movement.
Pastor Stefano Paris was featured in the 2019 Brochure advertising the 2019 United Nations Interfaith Harmony Week. When you look at the brochure you realize that the President of the Italian Union of SDA Churches is part of the "Interfaith Table of Rome!"
Pictured above is the President of the Italian Union of SDA Churches, Pastor Stefano Paris. He is with the "Interfaith Table of Rome." [8] On pages 8 and 9 of the brochure you will see Sefano Paris and the Italian Union of SDA Churches listed with all the other faiths.
The Interfaith Table of Rome partners with the United Nations to promote interfaith unity and cooperation. [9] In fact, you can see pictures of Pastor Stefano Paris on the Interfaith Table of Rome's website along with pictures of Pope Francis, Buddha, pagan idols and other spiritualistic ceremonies. [10]
President Ted Wilson
The ecumenical crisis in Italy goes even higher than President Stefano Paris. Ted Wilson, President of the General Conference of Seventh-day Adventists, was in Rome with President Stefano Paris in 2018. Ted Wilson addressed specifically the ecumenical movement.
In the above video Ted Wilson says we should not engage in the ecumenical movement or compromise our faith. But then he says that we must be in the "forefront" of making friends by being friendly with the leaders of other churches. These two statements are problematic when considering the current ecumenical crisis in Adventism.
Signing this Ecumenical Charter was not simply expressing friendship; it was entering into an ecumenical confederacy with the other churches. We have a major problem because we can't seem to distinguish between being friendly and entering into ecumenical partnerships with Rome. Every time church leaders get admonished for engaging in ecumenism they respond with a reassuring smile and say, "No, that was not ecumenism, we were just being friendly."
Others redefine ecumenism by claiming that they were just "mingling" with other people. If Seventh-day Adventists are just "mingling" then why do we conceal some of these interfaith engagements and hide them? Why do Roman Catholics have to be the ones who reveal that Seventh-day Adventists signed this historic Ecumenical Charter? Why isn't this news on the front pages of every church publications along with the details of the charter? What are they ashamed of?
And why are Seventh-day Adventist "friendships" being forged during Rome's ecumenical encounters? Do we have to attend Rome's venues in order to demonstrate friendliness? Do we have to confess together with them and affirm that we are all part of the "one, holy, catholic and apostolic" church in order to be a friend? Are friendship only forged during interfaith, spiritualistic exercises?
The truth is that these activities in which Adventists are engaged in signify much more than just being friendly or just simply mingling. This Ecumenical Charter is a full-blown apostasy. Don't accept any other interpretation. Don't believe the lies anymore. The time has come, and has long since past, that we should stop listening to these weak excuses that tell us that they are only trying to be friendly during those interfaith commitments.
President Ted Wilson says "no" to ecumenism. Well, what, if anything, is he going to do about the signing of this Ecumenical Charter? Is he going to hide and ignore this one too? Is he going to call this Ecumenical Charter with Rome "friendship evangelism?" Is this "mingling" or simply "making friends?" Why don't we just call it what God calls it?
"But here is Satan's right-hand man ready to carry on the work that Satan commenced in heaven, that of trying to amend the law of God. And the Christian world has sanctioned his efforts by adopting this child of the Papacy—the Sunday institution. They have nourished it, and will continue to nourish it, until Protestantism shall give the hand of fellowship to the Roman power" (Bible Commentary, Vol. 7, p. 910).
We are not engaging in "friendship" evangelism. We are grasping the hand of the Roman apostasy. The world sanctions this power by embracing Sunday. We sanction this same power through our presence and silence. When Seventh-day Adventists sit down, worship and sign loyalty contracts with the leaders of Rome they are actually sitting down with "Satan's right-hand man." Why don't Adventists call this exactly the way God sees it? You can NEVER go and sign pledges of loyalty with Satan's representative and then come back and stand before God thinking that everything is OK.
Not only is this happening but Ted Wilson allows his subordinates to do this. Ted Wilson says "no" to ecumenism but then allows Ganoune Diop to publicly meet with Pope Francis, attend a Roman Catholic Seminary while director of the Religious Liberty work and sing Roman Catholic Mass songs during ecumenical celebrations.
Ted Wilson says we cannot compromise our faith. Did you know that as soon as you step onto forbidden ground with Rome you are already compromising the faith BECAUSE during these interfaith engagements you have to leave your faith at the door? God's final message about the commandments of God and His warnings against the beast and its image, and against Babylon are not welcome. There is no agreement between the Three Angels' Message and Rome's Ecumenical Charter.
We have forgotten that we are not only called to believe in the First Angel's Message (the Seventh-day Sabbath), we are called to proclaim it to the world. We must encourage others to keep it too. The same is true with the Second and Third Angels' Message. It's not enough to keep these truths to ourselves; we must share them to the world.
A faith is not really a faith if it stays between our two ears. Our faith must be both lived and preached. And when we are silent with regards to God's final testing message, we are compromising the Seventh-day Adventist faith:
"To disregard light is to reject it" (Testimonies, Vol. 5, p. 680).
In Part 3 we will conclude by examining how God will respond to His people if they continue on the journey towards Rome.
Sources
[1] https://www.youtube.com/watch?v=AMCLxUhetfQ
[2] https://www.chiesadibologna.it/firmata-la-carta-ecumenica-di-bologna/
[3] https://www.chiesadibologna.it/wp-content/uploads/sites/2/2020/01/CHARTA-OECUMENICA.pdf
[4] http://adventmessenger.org/wp-content/uploads/Ecumenical-Charter.pdf
[5] http://adventmessenger.org/while-ted-wilson-preached-about-sharing-the-three-angels-message-adventists-were-celebrating-interfaith-harmony-week-in-rome/
[6] https://www.adventistyearbook.org/entity?EntityID=13794&section=General
[7] https://www.nev.it/nev/2014/02/26/avventisti-stefano-paris-e-il-nuovo-presidente-delluicca/
[8] https://worldinterfaithharmonyweek.com/wp-content/uploads/2019/04/WIHW_2019_Brochure-EN.pdf
[9] http://adventmessenger.org/while-ted-wilson-preached-about-sharing-the-three-angels-message-adventists-were-celebrating-interfaith-harmony-week-in-rome/
[10] https://tavolointerreligioso.org/foto/