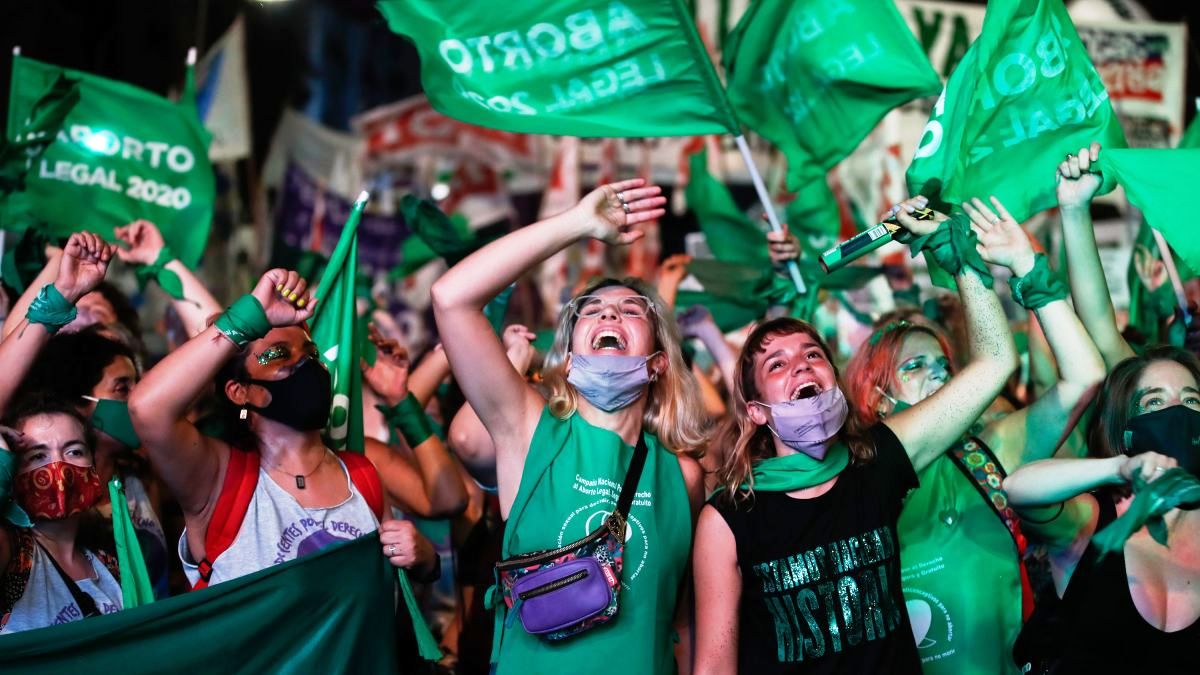 On Wednesday, December 30, after 12 hours of debate, the Argentina Senate approved to legalize abortion. Massive crowds of abortion rights activists and feminists reacted to the news with screaming and tears of joy as they welcomed the historic vote. The new law allows girls as young as 13 year old to get abortions without parental consent. [1]
NEW – Argentina becomes the first country in Latin America to legalize abortion after a landmark vote.pic.twitter.com/obFbMJrLiv

— Disclose.tv 🚨 (@disclosetv) December 30, 2020
13 year old kids want to have sex without responsibility. These young girls are shouting with joy over the legalization of murder. This blatant evil will now give millions of women and young kids the right to kill their babies in a Catholic-majority country.
This is what happens whenever Christians shamelessly support pro abortion, pro euthanasia, pro feminist and pro radical gender theory candidates. These demonic videos of young girls celebrating because they now have the legal right to murder their innocent babies is worth a thousand words.
Argentina is fighting for abortion rights and we are strong but we need our sisters around the world to support us more than ever. Join us in the international feminist revolution. Here's a million souls screaming "DOWN WITH THE PATRIARCHY, IT WILL FALL. FEMINISM WILL PREVAIL" 🔥 pic.twitter.com/p6DSFFRdqs

— Ni Una Menos UK (@niunamenos_uk) December 29, 2020
In the above video, 1 million feminists in Argentina shout, "Down with the patriarchy, it will fall, feminism will prevail." Is abortion the greatest achievement of the feminist movement? Absolutely. The ugly face of feminism is to spew angry diatribes against men, marriage, family and babies. Feminism is no friend to the unborn.
But the real culprits for this are the complacent Christians who just don't care. Millions of people who profess faith in Christ simply want to be left alone. They don't want to be disturbed. They don't want to be bothered. They don't want to have enemies. They only speak of freedom, justice and mercy when they are personally attacked, but they say nothing when innocent and defenseless children are killed.
Pope Francis, who is from Argentina, is a failure. How can we unite in "one humanity" and one fraternity (Frateli Tutti) with Marxist, pro death feminists? He talks about protecting the oppressed and the poor, but he has not taken any major steps to oppose this monstrous sin that has just been sanctioned in his home country. He's been too busy supporting pro-abortion candidates like Joe Biden, Kamala Harris and others. In fact, Pope Francis, who always seems to have something to say about climate change, immigration and LGBT+ inclusions, has been mysteriously silent.
"Ye are of your father the devil, and the lusts of your father ye will do. He was a murderer from the beginning, and abode not in the truth, because there is no truth in him. When he speaketh a lie, he speaketh of his own: for he is a liar, and the father of it." John 8:44.
Millions more children will die while many are celebrating death and blood. These people are the sons and daughters of the devil. We can never unite in one humanity and one fraternity with the devil. Unless they renounce the works of Satan and repent, their fate will be the same as those that Jesus denounced 2,000 years ago. May God have mercy on all of us. This is indeed a very sad day.
Sources
[1] https://www.cnn.com/2020/12/30/americas/argentina-abortion-senate-vote-intl/index.html