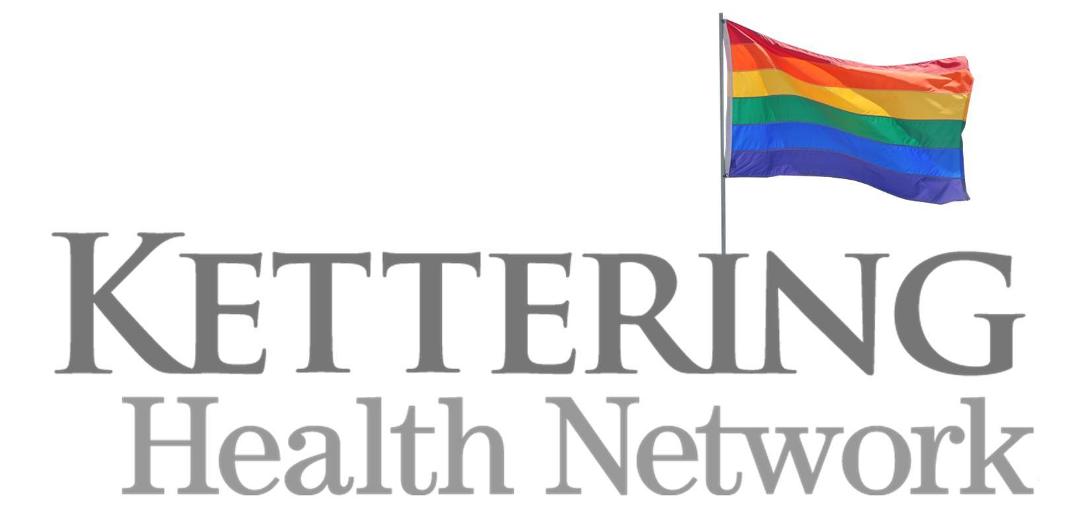 Promoting the lesbian, gay, bisexual and transgender lifestyle is part of the equality, diversity and inclusion movement. Whenever Seventh-day Adventist leaders push this agenda in the name of welcoming people on the basis of sexual orientation, it becomes an effort to help increase the LGTB+ presence within Adventism.
Kettering Health Network is a health care system in Ohio that is made up of nine hospitals. They are owned by the Seventh-day Adventist Church. [1] Josefer Montes is Vice President and Chief Inclusion Officer for Kettering Health Network. Recently, he wrote an article for the Dayton Business Journal, a local business news outlet in Dayton, Ohio. Take a look at the message he advocated to the public:
"We strongly believe that Kettering Health Network should be a safe and welcoming place for everyone — regardless of color, race, gender, orientation, or faith — to work and receive care. Respect and advocacy for justice and the rights of others is not only a matter of individual moral duty, it is also a matter of organizational mission and civic action. Anything less would dishonor the foundational Christian principle from our Savior's lips to "love your neighbor as yourself" (Matthew 22:39) and would be contrary to the Seventh-day Adventist faith tradition of a gospel for "every nation, tribe, people, and language" (Revelation 7:9). [2]
This statement is very disturbing. Is this the new message we want to convey to the world? Where in the Bible does Jesus advocate for sexual orientation rights? Jesus actually upheld God's original plan for marriage, one man and one woman united in holy matrimony (Matthew 19:4-6). In fact, Jesus didn't overlook anyone's sins; He addressed them:
"Jesus did not suppress one word of truth, but He uttered it always in love. He exercised the greatest tact and thoughtful, kind attention in His relationships with the people. He was never rude, never needlessly spoke a severe word, never gave needless pain to a sensitive soul. He did not censure human weakness. He spoke the truth, but always in love. He denounced hypocrisy, unbelief, and iniquity; but tears were in His voice as He uttered His scathing rebukes" (Steps to Christ, p. 12).

"The world cannot hate you; but me it hateth, because I testify of it, that the works thereof are evil." John 7:7.
Where are the principles of LGBT+ inclusion found in the Seventh-day Adventist message? I have not found any. The truth is that the Three Angels' Message actually reveals the exact opposite. These truths take us back to creation and to God's original plan for humanity. They also restore the Law of God that has been made void by our lawless generation.
The debate over sexual "orientation," and specifically, whether or not the Bible condemns or supports LGBT+ orientation, will continue to tear the church apart every time these senseless statements are made by the leaders of our institutions. Many Biblical revisionists no longer accept God's word on this matter, which is why many people are simply making things up as they go along. After all, according to these modern thinkers, the foundation of Christianity and the Seventh-day Adventist faith support diversity and inclusiveness when it comes to LGBT+ orientation.
This dangerous anti-Christian agenda is seducing our people into accepting the idea that Scripture is neither authoritative nor conclusive when it comes to homosexuality. This is a call to just get along and become tolerant and accept the gay agenda. Don't talk about sin. Don't talk about repentance. Don't focus on the ancient texts of the Bible. Let's be nice and focus on being happy.
Tragically, many leaders have been duped by this modern, cultural argument. This is causing us to fully affirm everything the Bible denies. This is not new. Other churches have already been embracing the LGBT+ agenda for years.
"Now the Spirit speaketh expressly, that in the latter times some shall depart from the faith, giving heed to seducing spirits, and doctrines of devils." 1 Timothy 4:1.

"For the time will come when they will not endure sound doctrine; but after their own lusts shall they heap to themselves teachers, having itching ears." 2 Timothy 4:3.
God's word predicts that in the latter days plenty of Christians and leaders will fall away. The Greek word for "falling away" is apostasy. This apostasy is real. It exists. It is dangerous and deadly, and it has made its way into Adventism. These new views on love and sexuality are more in harmony with Hollywood than with the Holy Spirit. And somehow we can't see this.
Whenever we begin to promote beliefs that reflect the teachings of our corrupt world rather than the clear word of God, this is a sign of apostasy; the same "falling away" that is so often warned about in Scripture (2 Thessalonians 2:1-3). It is a new path that, unfortunately, many will predictably follow. It is a path that denies basic Christian faith and biblical teaching. It is leading us away from truth and straight into the strong delusions of the enemy.
In just 20 years we have seen the culmination of the LGBT+ movement's effort to legitimize same sex-relationships. One of the very first institutions established by God, marriage, was recently changed in our generation. And it is remarkable that Seventh-day Adventists are going along with this. More and more Christians are capitulating to the current popular culture. Paul's words given in his letter to Timothy are absolutely necessary for this generation:
"I charge thee therefore before God, and the Lord Jesus Christ, who shall judge the quick and the dead at his appearing and his kingdom; Preach the word; be instant in season, out of season; reprove, rebuke, exhort with all longsuffering and doctrine. For the time will come when they will not endure sound doctrine; but after their own lusts shall they heap to themselves teachers, having itching ears; And they shall turn away their ears from the truth, and shall be turned unto fables." 2 Timothy 4:1-4.
Sources
[1] https://www.adventistyearbook.org/entity?EntityID=10774&section=General
[2] https://www.bizjournals.com/dayton/news/2020/10/26/diversity-and-inclusion-efforts-strengthened-at-ke.html