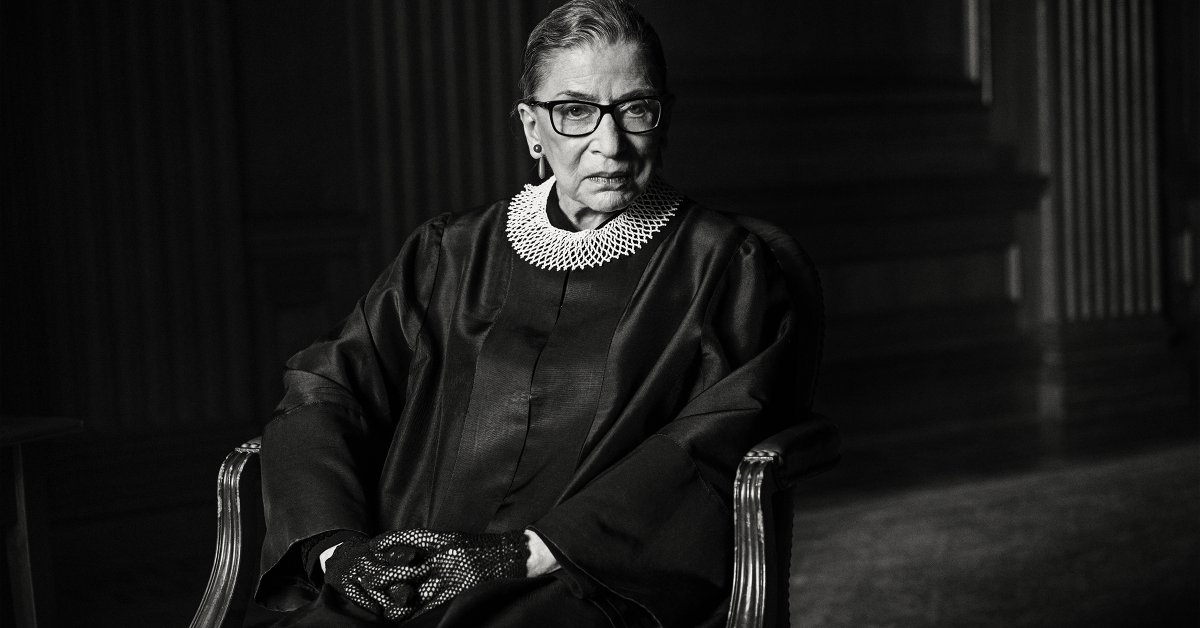 It is alarming to see how many Christians, including some Seventh-day Adventists, have been singing the praises to Ruth Bader Ginsburg, the most pro-abortion and pro-homosexual Supreme Court Justice ever to serve at our nation's highest court. You would expect the world to celebrate baby-killing and same-sex marriage, but you don't expect those who claim to be members of the commandment-keeping church of Jesus to do the same. This is one of the reasons why our churches are spiritually dead.
Seventh-day Adventists in Virginia praised Ruth Bader Ginsburg on the local news by saying:
"She stood up for the downtrodden … She stood for the less fortunate, and for those who didn't have a voice." [1]
She defended those who had no voice? This statement is ridiculous and incredible. Notice how US Senator Doug Collins described Ruth Bader Ginsburg's legacy:
RIP to the more than 30 million innocent babies that have been murdered during the decades that Ruth Bader Ginsburg defended pro-abortion laws. With @realDonaldTrump nominating a replacement that values human life, generations of unborn children have a chance to live.

— Doug Collins (@CollinsforGA) September 19, 2020
Some may argue that we don't necessarily have to agree with everything Ruth Bader Ginsburg stood for in order to celebrate her. Well, the same could be said for the Nazis under Hitler. Will they also celebrate the Nazis for the good points they had? Of course not because we should never celebrate what God calls evil.
"Ye have wearied the LORD with your words. Yet ye say, Wherein have we wearied him? When ye say, Every one that doeth evil is good in the sight of the LORD, and he delighteth in them." Malachi 2:17.
Ruth Bader Ginsburg's enduring legacy will include not only millions of dead babies, but also the destruction of the institution of marriage. She voted against biblical marriage in 2015. [2] She was the first Supreme Court Justice to perform a gay wedding in her chambers at the United States Supreme Court and she also officiated at other same-sex weddings. [3]
And today we have phony Christians trying to remember all of Ruth Bader Ginsburg's good achievements while ignoring her repeated rulings on infanticide, partial-birth abortion and gay marriage. You can say, "Oh, don't judge her." We don't have to, because God will:
"And I saw the dead, small and great, stand before God; and the books were opened: and another book was opened, which is the book of life: and the dead were judged out of those things which were written in the books, according to their works." Revelation 20:12.
Ruth Bader Ginsburg will soon discover that God has a Court in heaven that is higher than the Supreme Court of the United States. She will sit in trial, not as a judge, but as a defendant. And God has a written record of every ounce of blood that was shed with her approval. Every cry of pain from the murdered babies will be reproduced and every act of abomination that she condoned will be replayed.
"For we must all appear before the judgment seat of Christ; that every one may receive the things done in his body, according to that he hath done, whether it be good or bad." 2 Corinthians 5:10.
No one is getting away with anything in this life. No one will escape accountability before a holy, just and righteous God. Not Hitler, not Stalin, not Mao and not even Ruth.
"Woe unto them that call evil good, and good evil; that put darkness for light, and light for darkness; that put bitter for sweet, and sweet for bitter." Isaiah 5:20.
"Woe unto them that are wise in their own eyes, and prudent in their own sight!" Isaiah 5:21.
"Which justify the wicked for reward, and take away the righteousness of the righteous from him!" Isaiah 5:23.
"Therefore as the fire devoureth the stubble, and the flame consumeth the chaff, so their root shall be as rottenness, and their blossom shall go up as dust: because they have cast away the law of the Lord of hosts, and despised the word of the Holy One of Israel." Isaiah 5:24.
Sources
[1] https://www.wsls.com/news/local/2020/09/21/group-inspired-by-ruth-bader-ginsburgs-legacy-gives-away-food-in-south-boston/
[2] https://www.theguardian.com/us-news/2015/apr/28/ruth-bader-ginsburg-gay-marriage-arguments-supreme-court
[3] https://talkingpointsmemo.com/dc/inside-the-supreme-court-s-first-gay-wedding