The administrative leaders at the Potomac Conference of Seventh-day Adventists ordained another woman into the ministry on June 29, 2019. Newly ordained female pastor Therezinha Barbalho will be working at the Silver Spring SDA Church in Maryland. [1]
Fulcrum7, a conservative Seventh-day Adventist news blog, reported the following:
"Yesterday, the Silver Spring Seventh-day Adventist Church ordained a woman (Therezinha Barbalho) in spite of the Church's position on ordaining women.  This is—at best—an unwashed thumb in the eye, and at worst, an obscene hand gesture towards the General Conference headquarters—just 5.6 miles away." [2]
1 – First of all, this is not biblical. There is no biblical support for what we see happening here. The men and women you see in these pictures are promoting a policy that is completely opposed to our Christian faith and to church history.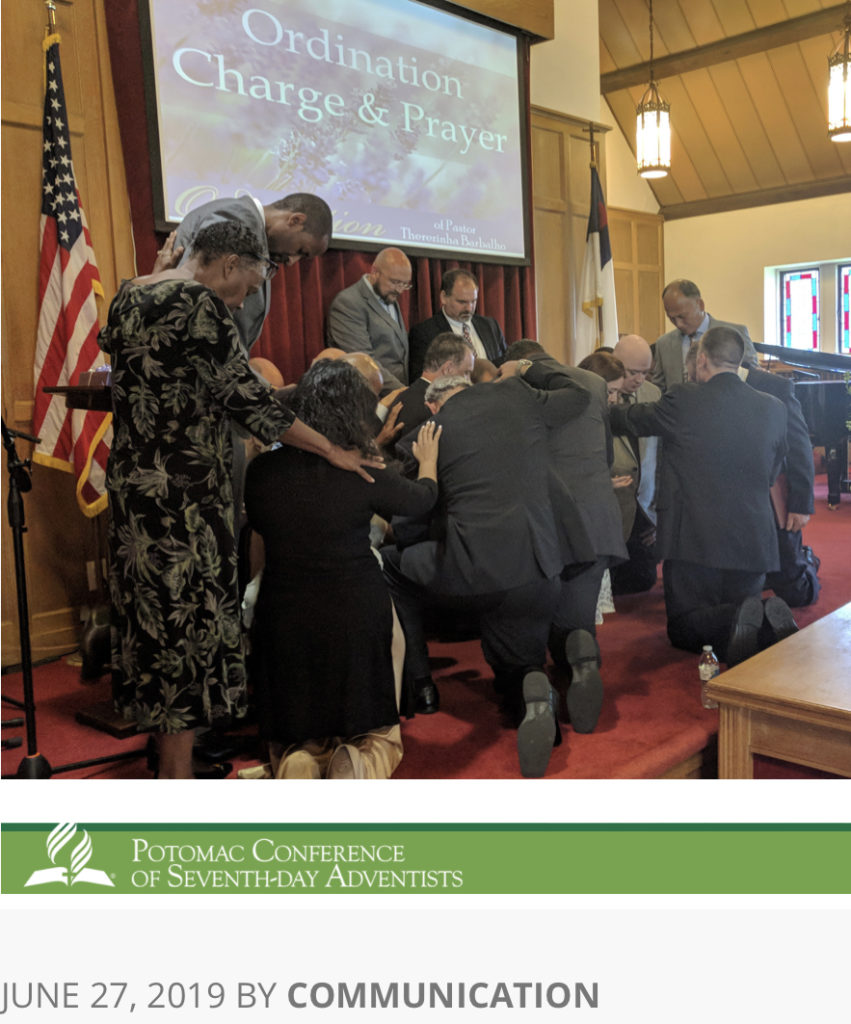 When they invoked the name of God in this ordination service, they were not calling upon the true God, the God of Abraham, Isaac and Jacob. These people were praying to an imaginary god that was created by the feminist movement – a god that doesn't exist in the Bible, but a god who exists only in their own imagination.
This ordination service has one serious problem. It's called a "Bible" problem. There is not Biblical command or example in all of the Holy Scriptures for what they are doing.
2 – Secondly, feminism is becoming the new path to radically liberalize the Seventh-day Adventist Church in this generation. It has only been during the last 50 years that liberal Protestant denominations began the pioneering work of ordaining women into ministry to serve as pastors and ministers. [3]
It is without question that liberalism, a philosophy that seeks to undermine the authority of the scriptures, always leads to the full endorsement of women's ordination. There is no liberal denomination or liberal seminary in the world today that opposes women's ordination.
The goal of the liberal, feminist agenda is to reshape the Adventist movement into an image of the liberal Protestant churches. They want us to reject the unique biblical roles that God created for men and women. [4]
"I was told that men will employ every policy to make less prominent the difference between the faith of Seventh-day Adventists and those who observe the first day of the week. In this controversy the whole world will be engaged, and the time is short" (Manuscript 15, 1896; Selected Message, Book 2, p. 385).
3 – Thirdly, the Seventh-day Adventist Church – in its official, biblical and legal capacity – has rejected the ordination of women into the gospel ministry on three different times.
God has given his people a system of organization that would allow this global movement to work seamlessly together in its world-wide mission. Local, regional, national and international levels of organization were designed to work together to help bring efficiency, effectiveness and success to the work and mission of God's people.
Whenever its highest legal authority meets in session every 5 years, those decisions are to flow down through the chain of command to every level of organization. The different leaders at the general conference, division, union and local conference are subordinate to the voted actions of the world church in general session. Every leader at every level of authority must demonstrate character, professionalism and discipline and advance the church's decisions and goals. 
Whenever there is no compliance in the chain of command everything will descend into chaos and anarchy. This is being manifested by those who have begun ordaining women on their own authority. They show disrespect to the world church and disregard to the entire voting process.
These leaders are expressing contempt and disdain to the collective decisions of the church. They are sowing seeds of bitterness and rebellion throughout the ranks. They lack discipline and character and should resign, but instead they choose to co-opt the movement for the furtherance of their own personal views, ambitions and purposes.
If this were the military they would have been court-marshalled and booted out a long time ago. We are in the Lord's army and the actions of these insubordinate leaders is no less dangerous and unbecoming for the office they hold.
Conclusion
It's not just the Potomac Conference that wants to changes our values, our history and our doctrine. There are leaders at the Columbia Union Conference and at the North American Division who are in positions of influence and who refuse to do anything about this. They refuse to speak out or take any public stance against these unauthorized changes. This makes them complicit.
If this trend continues, what will be next?
Recent trends seen within the liberal churches show that feminists are eliminating masculinity. Soon God will also become "Our Mother," manhood and womanhood will become synonymous in every way and finally we will see an endorsement for homosexuality.
We must decide now and decide quickly as to whether we will follow the word of God or continue being led astray by the new dominant, unbiblical, liberal views that are subverting the movement.
"Those who have too little courage to reprove wrong, or who through indolence or lack of interest make no earnest effort to purify the family or the church of God, are held accountable for the evil that may result from their neglect of duty. We are just as responsible for evils that we might have checked in others by exercise of parental or pastoral authority as if the acts had been our own" (Patriarch and Prophets, p. 57).
Sources
[1] https://www.pcsda.org/2019/06/27/therezinha-barbalho-to-be-ordained-into-the-gospel-ministry/
[2] http://www.fulcrum7.com/blog/2019/6/30/an-unwashed-thumb-in-the-eye-of-the-entire-church-silver-spring-sda-church-ordains-woman
[3] http://adventmessenger.org/liberal-trends-in-adventism-are-targeting-our-young-people/
[4] http://adventmessenger.org/gender-confusion-is-making-inroads-into-adventism/