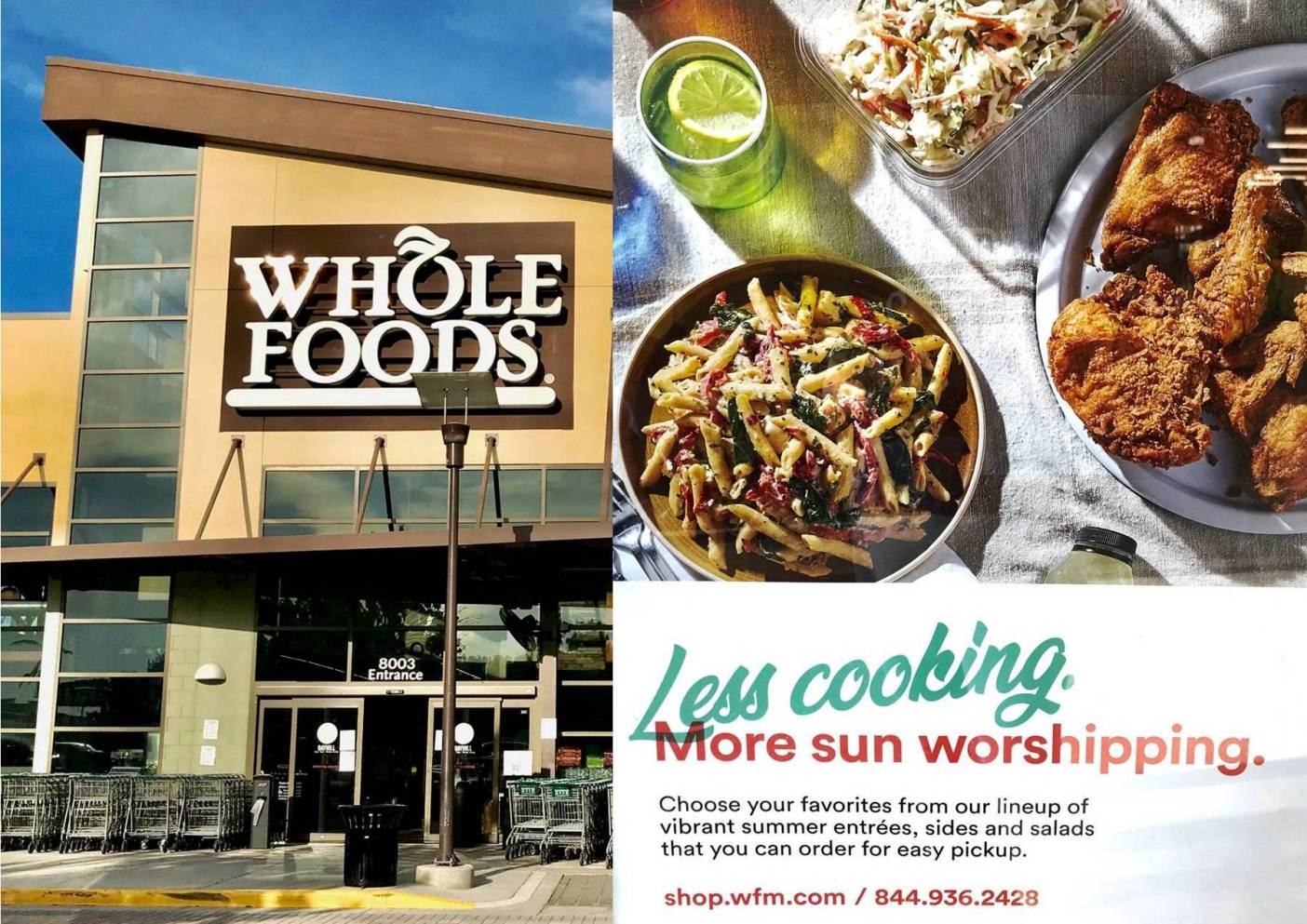 Whole Foods Market is an eco-friendly health food chain owned by Amazon with stores in the US, Canada and the UK. They are taking their climate message to a whole new level. A new marketing campaign for their Orlando Store located at 8003 Turkey Lake Rd., Orlando, FL 32819, is emphasizing the worship of the solar deity. What kind of message are they sending? "Don't cook; instead use our catering service so that you can spend more time worshipping the sun." Sun worship? How about spending more time with God and family?
It seems that the Whole Foods Market climate campaign is twofold: nature needs to be idolized and people need to be molded to accept Sunday as the day of rest. This is the same global pantheistic nature worship message that is being pushed by the corporate world, politicians, governments and the different religions. First it was the ancient Egyptians, then the Babylonians, then Ancient Rome and now this generation has abandoned truth and replaced the God of heaven with the same ancient worship of the sun god.
The veneration of nature is being led by Pope Francis through his climate change encyclical Laudato Si'. Pope Francis pays tribute to Sunday and to nature:
"Praise be to you, my Lord, through our Sister, Mother Earth, who sustains and governs us, and who produces various fruit with coloured flowers and herbs" (Laudato Si, paragraph #1). [1]
Laudato Si' is full of pantheistic references to nature worship:
"Everything is related, and we human beings are united as brothers and sisters on a wonderful pilgrimage, woven together by the love God has for each of his creatures and which also unites us in fond affection with brother sun, sister moon, brother river and mother earth." (Laudato Si, paragraph #92). [1]
Pope Francis also exalts Sunday in his encyclical as a day to connect us to the earth:
"On Sunday, our participation in the Eucharist has special importance. Sunday, like the Jewish Sabbath, is meant to be a day which heals our relationships with God, with ourselves, with others and with the world." (Laudato Si, paragraph #237). [1]
Spiritualism is becoming the new foundation for the coming, religious new world order. Nature will be the new unifying truth. Laudato Si' will bring the churches into unity with each other and with the universe. It won't matter who you worship – Jehovah, Mother Earth, the universe or some other god – in Rome's new world order everyone is connected with each other. We are all one. There used to be a time when Christianity denounced the false gods and teachings of the world. Not anymore. Thanks to the lovey-dovey propaganda of the ecumenical movement, now everyone is accepted and embraced. This is pure pantheistic spiritualism:
"Love (ecumenism) is dwelt upon as the chief attribute of God, but it is degraded to a weak sentimentalism, making little distinction between good and evil. God's justice, His denunciations of sin, the requirements of His holy law, are all kept out of sight …  There are few who have any just conception of the deceptive power of spiritualism and the danger of coming under its influence" (Great Controversy, p. 558).
This is the Omega of Apostasy that we were warned about. Pope Francis seeks to unite all under a single world-wide, pantheistic and ecumenical faith. By deifying nature and promoting ecumenism, the Papacy is building common ground with all the corporate, political and religious systems of the world (Revelation 17:5). By avoiding truth, Rome's ecumenical movement will transcend the true God of the Bible and encompass all gods known to man.
According to the coming one-world religion predicted in prophecy, those who do not engage in this pantheistic worship are narrow-minded, creating division, hateful, intolerant, a threat to Mother Earth and need to be marginalized and excluded from the coming global reset. Those who do not bow to Rome or embrace her climate encyclical are the troublemakers. Ecumenism, Mother Earth and the green eco-religion will be the new focal point for praising and communicating with God.
The solution to this Omega of Apostasy (nature worship, green Sunday law, radical environmentalism) that is invading all of society is to proclaim the three angels' messages of Revelation 14:6-12 to the whole world, in a loud voice, without fear or wavering. The message that must be given is a call to people to fear God, reflect His character, obey His commandments, come out of Babylon, embrace His memorial to creation – the seventh-day Sabbath (Saturday), refuse the mark of apostasy – the green Sunday law and help others do the same. Seventh-day Adventists were never called to just "believe" in these messages. We were called to receive them and proclaim them with power to the world!
Join the conversation and share your thoughts about "sun worshipping" with us below at the bottom of this page. We have opened the comments for you to tell us what you think.
Sources
[1] https://www.vatican.va/content/francesco/en/encyclicals/documents/papa-francesco_20150524_enciclica-laudato-si.html