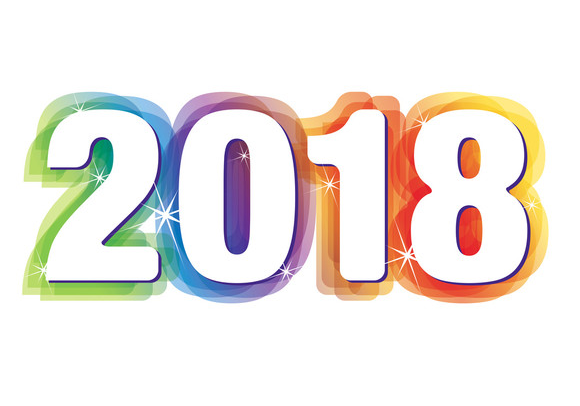 2018 will be a year that we will never forget. We have witnessed prophetic events that prove that our world is broken and that Jesus is at the door. In 2018 we saw great political shakings, a continued moral decay and record-breaking natural disasters. Here are some of the biggest stories that happened this past year that almost seem unbelievable.
In the United States alone more that 100 churches are dying every single week. [1]
Almost 40% of young adults in America no longer identify with any kind of religion. [2]
Approximately 110 million Americans are living with a sexually-transmitted disease. [3]
According to the Mount Washington Observatory in New Hampshire, they had wind chills of between -70 and -75 degrees on Thanksgiving morning. [4]
In September, an all-time record high seven named storms were swirling across the globe simultaneously. [5]
The number of total earthquakes rose to a level that was 50% above normal. [6]
In some cities of America, approximately one out of every four babies is born as an opioid addict. [7]
Puerto Rico was left without electricity for 11 months in the aftermath of Hurricane Maria. [8]
Hawaii's Kilauea Volcano sprang to life spewing ash and molten lava thousands of feet in the air. [9]
Hurricane Michael made landfall and decimated parts of the Florida Panhandle. [10]
A mass shooting took place in California. [11]
A mass shooting took place in Pennsylvania. [12]
A mass shooting took place in Florida. [13]
The worst California fire in recorded history left 88 dead. [14]
Pope Francis failed to protect child sex abuse victims worldwide. [15]
Prophecy declares that regardless of how insane our world becomes, God is still in control. He still sits on His throne, and it is only because of His tender mercies that we have not been consumed:
"It is of the LORD'S mercies that we are not consumed, because his compassions fail not. They are new every morning: great is thy faithfulness." Lamentations 3:22, 23.
However, many want to attribute all of the pain, misery, death and destruction on God as though He must shoulder all of the blame for what we see happening today. And because many blame God for everything wrong that happens in life, some want nothing to do with Him.
What we have failed to realize is that it is not God who has turned away from us, we have abandoned Him and have put Him out of our lives:
"Behold, the LORD'S hand is not shortened, that it cannot save; neither his ear heavy, that it cannot hear: But your iniquities have separated between you and your God, and your sins have hid his face from you, that he will not hear." Isaiah 59:1, 2.
Again, we are reminded that calamities will come and, sadly, it seems that many will only remember God during times of trouble:
"Because I have called, and ye refused; I have stretched out my hand, and no man regarded; But ye have set at nought all my counsel, and would none of my reproof…When your fear cometh as desolation, and your destruction cometh as a whirlwind; when distress and anguish cometh upon you. Then shall they call upon me, but I will not answer; they shall seek me early, but they shall not find me." Proverbs 1:24, 25, 27, 28.
The good news is that the Lord can and will be found by those who turn away from their iniquities:
"Repent and turn from all your transgressions, so that your iniquity will not become your downfall." Ezekiel 18:30.
"Cast away from you all your transgressions, whereby ye have transgressed; and make you a new heart and a new spirit: for why will ye die, O house of Israel?" Ezekiel 18:31.
"The LORD is with you, while ye be with him; and if ye seek him, he will be found of you; but if ye forsake him, he will forsake you." 2 Chronicles 15:2.
Let us pray for the Lord's blessing during this next year. May we seek His mercy and forgiveness – and also His approval and presence in our lives.
Happy New Year!
Sources
[1] http://themostimportantnews.com/archives/between-6000-and-10000-churches-in-the-u-s-are-dying-each-year-and-that-means-that-over-100-will-die-this-week [2] https://www.prri.org/research/prri-rns-poll-nones-atheist-leaving-religion/ [3] https://www.nytimes.com/2017/09/29/health/chlamydia-syphilis-gonorrhea.html [4] https://twitter.com/MWObs/status/1065546626239012864 [5] http://themostimportantnews.com/archives/a-record-7-named-storms-are-swirling-across-the-globe-has-the-day-after-tomorrow-arrived [6] http://themostimportantnews.com/archives/seismic-shocker-the-number-of-global-earthquakes-over-the-last-30-days-is-more-than-50-above-normal [7] https://www.axios.com/the-youngest-victims-of-the-opioid-epidemic-7531ccf5-9ec4-431a-bb1e-991fc2fb0364.html [8] https://www.nytimes.com/2018/08/14/us/puerto-rico-electricity-power.html [9] https://www.cbsnews.com/news/hawaii-volcano-eruption-community-overwhelmed-by-river-of-molten-misery-2018-05-23/?ftag=CNM-00-10aab4i [10] https://www.cbsnews.com/live-news/hurricane-michael-path-evacuation-florida-storm-surge-weather-forecast-today-2018-live-updates/?ftag=CNM-00-10aab4i [11] https://www.cbsnews.com/live-news/california-mass-shooting-thousand-oaks-bar-today-2018-11-08-live-updates/?ftag=CNM-00-10aab4i [12] https://www.cbsnews.com/news/pittsburgh-shooting-today-tree-of-life-synagogue-squirrel-hill-pennsylvania-2018-10-27-live-updates/?ftag=CNM-00-10aab4i [13] https://www.nbcnews.com/news/amp/ncna848101 [14] https://www.cbsnews.com/news/paradise-lost-inside-california-camp-fire-60-minutes/?ftag=CNM-00-10aab4i [15] https://www.washingtonpost.com/opinions/pope-francis-failed-to-handle-the-sex-abuse-crisis-in-2018-lets-hope-2019-is-different/2018/12/28/d68e7b66-0acd-11e9-a3f0-71c95106d96a_story.html?utm_term=.8692f21264cd