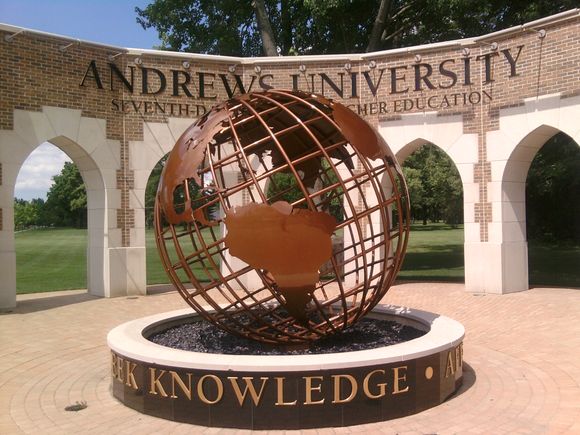 Andrews University recently implemented new policies in its Student Handbook that are designed to create a safe environment on campus for students who are gay, lesbian, transgender or unsure about their gender identity.
The new policies are meant to "draw" into a close relationship to God those who are struggling with their sexual orientation and to demonstrate that the university cares for them. It denounces discrimination and harassment on the basis of a persons' sexual orientation and works to create a safe "caring" climate for all students.
The Andrews University Statement says:
"All students who live in harmony with the values of the University and the biblical standards of the Adventist church—no matter their sexual orientation—are welcome to participate and lead as members of our community."
Also under the "Choice and Conduct" section found on page 83 of the Andrews University Student Handbook we read the follwoing:
"While the Bible forbids sexual activity between members of the same sex, it does not address sexual orientation. Although there is no consensus on what leads to same-sex orientation, it is usually understood to involve the complex interaction between nature and nurture. In reality, individuals may "experience little or no sense of choice about their sexual orientation." The University understands that identifying with a particular orientation is not, in itself, an indicator of behavior. Thus, as we administer our Code of Student Conduct, we draw a clear distinction between sexual orientation, which is an enduring pattern of attraction to one or both sexes, and behavioral choices, for which one is held accountable."
The Andrews University statement makes a line of distinction between sexual orientation and sexual acts. They say these are not the same thing. Andrews University says that even if you are attracted to the same sex, but not in a relationship, or even if you are a non-practicing member of the LGBTQ community -there is no problem because the Bible doesn't address sexual orientation. According to Andrews University the Bible only addresses sexual acts. So as long as you only identify as LGBTQ but are not actually involved in a LGBTQ relationship, then you are OK. We will accept you as "members of our community."
In other words "You can be who you are, just don't ever get married or start dating." If I am a single person and someone is telling me that everything is OK with me as long as I don't date or marry then something is seriously wrong! That's not the gospel. That's pandering. That is politicizing the issue. That is not love.
Jesus said sin is not just defined or limited to external acts, sin is also a state of mind. Jesus clearly taught that sin can be present in our heart and thoughts, not just our actions: "But I say unto you, That whosoever looketh on a woman to lust after her hath committed adultery with her already in his heart." Matthew 5:28.
"God's law reaches the feelings and motives, as well as the outward acts. It reveals the secrets of the heart, flashing light upon things before buried in darkness. God knows every thought, every purpose, every plan, every motive. The books of heaven record the sins that would have been committed had there been opportunity. God will bring every work into judgment, with every secret thing. By His law He measures the character of every man. As the artist transfers to the canvas the features of the face, so the features of each individual character are transferred to the books of heaven. God has a perfect photograph of every man's character, and this photograph He compares with His law. He reveals to man the defects that mar his life, and calls upon him to repent and turn from sin" (Bible Commentary, Vol. 5, p. 1085).
Here is the problem: The Andrews statement is attempting to define how far-reaching God's law is with regards to the lives of people. They are saying that God's law only addresses outward acts but not the LGBTQ orientation and identity. This is incompatible with the words of inspiration.
"For as he thinketh in his heart, so is he." Proverbs 23:7.
"For out of the heart proceed evil thoughts, murders, adulteries, fornications, thefts, false witness, blasphemies. These are the things which defile a man." Matthew 15:19, 20.
"And GOD saw that the wickedness of man was great in the earth, and that every imagination of the thoughts of his heart was only evil continually." Genesis 6:5.
The heart, which includes our innermost thoughts and feelings, is where sin is conceived. These too will be judged by the law of God – not just the outward acts. So it is disingenuous and dishonest to implement polices that are not in harmony with Divine Revelation.
God never panders the sinner or attempts to accommodate or justify their external sins or the sins that are inside of our hearts and minds:
"God's plan is not to send messengers who will please and flatter sinners; He delivers no messages of peace to lull the unsanctified into carnal security. Instead, He lays heavy burdens upon the conscience of the wrongdoer and pierces his soul with sharp arrows of conviction. Ministering angels present to him the fearful judgments of God, to deepen the sense of need and to prompt the agonizing cry, 'What must I do to be saved?' Acts 16:30. But the Hand that humbles to the dust, rebukes sin, and puts pride and ambition to shame, is the Hand that lifts up the penitent, stricken one" (Prophets and Kings, 435).
To be fair, most of the Andrews University statement falls in line with the Bible. But when we start adding man-made "policies" to redefine what God has already defined, that is a slippery slope that can lead to disaster. True love and respect is to value the individual enough to tell him or her the truth of God's word in order to dispel the error a person may be in. Liberty, love, respect and free speech from God's perspective is for the advancement and the establishment of sacred truth, and not for the abandonment of the truth. God is merciful, long suffering, full of grace, patient, kind, and He pardons iniquity; but He is also truth (Exodus 34:6, 7). And it is God's world-view of truth upon which His church is established. It is God who defines what sin and disobedience is. It is also God alone who defines all the aspects of our lives that will come into judgment. He calls certain lifestyles sin, and He makes no distinctions between the heart and the outward acts. No man can make that judgment call, but God can and has. God doesn't hate anyone when defining sin or identifying our sinful hearts. He loves all people for we are all sinners; but in love God calls us all to repent and to forsake sin.
"Call sin by its right name. Declare what God has said in regard to lying, Sabbathbreaking, stealing, idolatry, and every other evil. 'They which do such things shall not inherit the kingdom of God.' Galatians 5:21. If they persist in sin, the judgment you have declared from God's word is pronounced upon them in heaven. In choosing to sin, they disown Christ; the church must show that she does not sanction their deeds, or she herself dishonors her Lord. She must say about sin what God says about it. She must deal with it as God directs, and her action is ratified in heaven. He who despises the authority of the church despises the authority of Christ Himself" (Desire of Ages, 805).
The progressive, secular agenda is designed to "embrace" peoples' lifestyles no matter who they are attracted to sexually. You can determine your own gender identity and Andrews will support you. You can choose what you want to be and you will be a member in good standing. Andrews University is saying "Don't worry, if you are not happy with the way God created you, we will support you, we will love you and we will make you feel welcome." They are traveling in uncharted territory and going where no Adventist institution has ever gone before. In the Biblical creation account God at the beginning originally created only two genders, "male and female" (Matt. 19:4).  Remember that the Seventh-day Sabbath and the two genders, male and female, were originally given to us at creation when all that God made was "good" (Genesis 1:31). This is what defines marriage and families for they are what enable societies to exists. And with regards to love – true love seeks the honor of God first and then the salvation of souls.
"Those ministers who are men pleasers, who cry, Peace, peace, when God has not spoken peace, might well humble their hearts before God, asking pardon for their insincerity and their lack of moral courage. It is not from love for their neighbor that they smooth down the message entrusted to them, but because they are self-indulgent and ease-loving. True love seeks first the honor of God and the salvation of souls. Those who have this love will not evade the truth to save themselves from the unpleasant results of plain speaking. When souls are in peril, God's ministers will not consider self, but will speak the word given them to speak, refusing to excuse or palliate evil." (Prophets and Kings, p. 141.3).