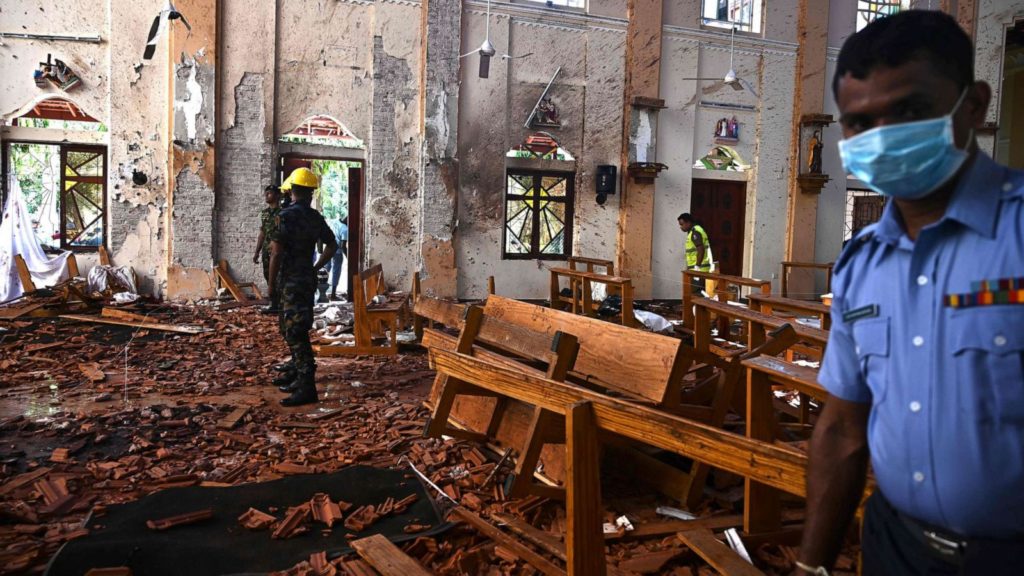 Another day brings another terror attack on innocent worshippers. More men, women and children were slaughtered without mercy while gathered on one of Christianity's most busiest days – Easter Sunday. Blood and carnage were on display as more than 300 were killed and hundreds more injured. Easter Sunday was deliberately chosen for this attack by radical Muslim terrorists to achieve the maximum amount of death, misery and mayhem.
Deadly blasts in 4 hotels and 3 churches killed and injured worshippers and tourists in Sri Lanka. This was a well orchestrated terror attack that took a lot of planning. Churches were full and lots of foreign tourists were visiting the country with their families.
Attacks on churches are literally on the rise all over the globe, and they are happening right in the middle of worship services. It was no surprise when it was announced who was responsible for this most recent act of terror. These were radical Islamic terrorists in action. This was the work of devout and dedicated Muslims who have no problem slaughtering worshippers on a day that most Christians, according to Catholic tradition, observe as one of the most sacred days of the year.
It's hard to image how anyone can invoke the name of God while planning attacks that include the murder of small children. Who could imagine blowing up churches full of worshippers in a so-called modern, civilized age?
Those who commit murder in God's name think that they are doing God's service (John 16:2), but they are not! They think that they are on their way to heaven; but they are actually on their way to hell. Can anyone who belongs to a cult of death end up in heaven while going around invoking God's name when committing acts of murder? No!
"But the fearful, and unbelieving, and the abominable, and murderers, and whoremongers, and sorcerers, and idolaters, and all liars, shall have their part in the lake which burneth with fire and brimstone: which is the second death." Revelation 21:8.
But the problem facing our world goes way beyond radical Islamic terrorists. The age of global terror is a symptom of a much greater problem. Terrorism is the direct result of God removing His protection from His people as they embrace godless influences that make of no effect the word of God:
"And if ye shall despise my statutes, or if your soul abhor my judgments, so that ye will not do all my commandments, but that ye break my covenant: I also will do this unto you; I will even appoint over you terror, consumption, and the burning ague, that shall consume the eyes, and cause sorrow of heart: and ye shall sow your seed in vain, for your enemies shall eat it." Leviticus 26:15, 16.
God's professed Christian people have more to do with the increase in global terrorism than do the radical Islamic terrorists. God has had to watch with horror as those who profess to be His people are embracing a godless, secular and immoral culture. Many so-called churches and nations are embracing abortion, euthanasia, sexual immorality, gender identity rights, LGBT+ rights, culture conformity, gluttony, worldly pride and flattery, same-sex marriage and other gross abominations.
These and other national sins will bring real consequences and will cause God to remove His providence and protection from the life of any nation. Notice what God promised would happen when His people begin disobeying His commandments:
"And the Lord saith, Because they have forsaken my law which I set before them, and have not obeyed my voice, neither walked therein." Jeremiah 9:13.
"Therefore thus saith the Lord of hosts, the God of Israel; Behold, I will feed them, even this people, with wormwood, and give them water of gall to drink." Jeremiah 9:15.
"I will scatter them also among the heathen, whom neither they nor their fathers have known: and I will send a sword after them, till I have consumed them." Jeremiah 9:16.
"For a voice of wailing is heard out of Zion, How are we spoiled! we are greatly confounded, because we have forsaken the land, because our dwellings have cast us out." Jeremiah 9:19.
"For death is come up into our windows, and is entered into our palaces, to cut off the children from without, and the young men from the streets. Jeremiah 9:21.
God is anxious to save us and heal our land, but if we as individuals or collectively as a nation continue on a downward decent into disobedience and immorality, God can and will turn our blessings, peace and prosperity into "terror."
"In spite of all this they still sinned; despite his wonders they did not believe. So he made their days vanish like a breath, and their years in terror." Psalm 78:32, 33. (RSV)
These Bible versus reveal the truth as to why our world is in trouble. We are being left without a Shelter and Protector. Our world is being torn apart as terrorism stains our streets with blood. This is a time for serious reflection and a time to humble ourself and repent because the Lord promises peace and prosperity in times of righteousness and justice, but He also promises terror and judgment when we mock the loving warnings of a merciful God.
"The earth also is defiled under the inhabitants thereof; because they have transgressed the laws, changed the ordinance, broken the everlasting covenant." Isaiah 24:4, 5.
"Hear the word of the LORD, ye children of Israel: for the LORD hath a controversy with the inhabitants of the land, because there is no truth, nor mercy, nor knowledge of God in the land." (Hosea 4:1).
"Make a chain: for the land is full of bloody crimes, and the city is full of violence. Destruction cometh; and they shall seek peace, and there shall be none. Ezikeil 7:23, 25.