On October 4, 2019 in the Vatican Gardens, Pope Francis presided over the opening ceremony for the upcoming Pan-Amazon Synod of Bishops. Even though the Synod officially begins on October 6, 2019 and ends on October 27, 2019 [1], the opening ceremony was held today. Indians from the Amazon offered prayers and praises to the earth during a ceremony that appeared more pagan than Christian.
The agenda for this much-awaited Vatican meeting was published months ago. The plan is not to convert the indigenous people of the Amazon with the gospel of Christ. The working document is more focused on converting the entire Christian world into earth worshippers. This Amazon Synod will promote pagan mysticism, Sunday sacredness, women's ordination, eco-revolution and ecumenism. [2]
But even before the official start of the Amazon Synod, indigenous leaders from the Amazon brought their pagan idolatry to the Vatican during a ceremony dedicated to Mother Earth. Wood carvings, candles, clay pots, coconuts, fruits and other objects representing the Amazon Jungle were placed on the ground while Roman Catholics and indigenous people formed a circled and knelt down and bowed before them – not to Christ!
All this was done as part of the inaugural ceremony while Pope Francis presided over the entire event. Prayers for the earth, elaborate tree planting rituals, pagan dances, the sprinkling of water and bowing down to earthly objects are all expressions of earth worship. This is sending a powerful message about what we can expect in the coming days, weeks and months.
Our "common home," which is a reference to our planet's ecology, is what we will be hearing during the Amazon Synod. Instead of preparing for the eternal and final home that God is preparing for us (John 14:1-3), the new mission is to shape and mold this present world with nature-worship, religious mysticism and radical environmentalism. These are becoming the new belief system for western civilization. This is what the Vatican is endorsing. They are confusing God with ecology.
This pagan ceremony which took place in the Vatican is only a shadow of the radical changes that are coming. Nature is fast becoming the new gospel for Christianity as they are embracing paganism and bringing nature worship into the church. And it's not just the Vatican that is embracing pantheistic spirituality.
Spiritualism will be the means that will unite all of the churches into one body. One by one the different faiths have been lining up to embrace the green earth religion. By embracing spiritualism they reject the true God and His true gospel. As men and women reject biblical truth they will believe in anything – including green spirituality, climate religion, Mother Earth, nature worship or tree hugging.
This is an abandonment of the faith and a betrayal to true apostolic Christianity. Instead of promoting the true faith which would help humanity escape the superstitions of paganism, they are pushing society back into a primitive, primordial civilization – in harmony with Mother Nature and the "spirits."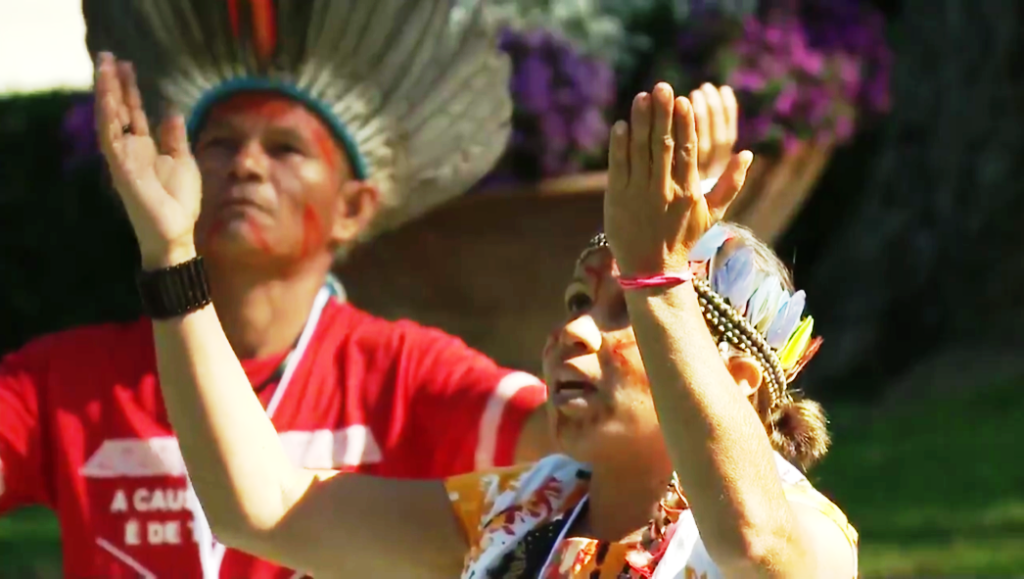 "Satan determines to unite them in one body, and thus strengthen his cause by sweeping all into the ranks of Spiritualism … Papists, Protestants, and worldlings will alike accept the form of godliness without the power, and they will see in this union a grand movement for the conversion of the world" (Great Controversy, pp. 588, 589).
The answer to paganism and spiritualism is found in the great three-fold messages of Revelation 14:6-12. This end-time proclamation makes a call to the whole world to "Fear God, and give glory to him; for the hour of his judgment is come: and worship him that made heaven, and earth, and the sea, and the fountains of waters" (Revelation 14:7).
It is a call to honor God alone as our Creator who made heaven and earth. Sadly, our generation is looking for new gods to worship. We are drifting away into humanism, paganism, secularism, godlessness and anarchy. We need to come back and see God for who He really is – a loving, personal God who is both Creator and Lord of all things, a God of law, love, mercy and justice.
He is a God who has gone to infinite lengths making provision through Jesus Christ to save sinners, to justify and sanctify them, to impute righteousness on them, to empower them to live a new life (Jude 24) and to fit them for the glories of heaven and His kingdom made new (Revelation 22:14). He alone is worthy of our praise and worship!
Sources
[1] https://cruxnow.com/vatican/2019/10/04/on-feast-of-st-francis-pope-joins-amazonians-to-plant-tree-at-vatican/
[2] http://adventmessenger.org/pope-francis-amazon-synod-will-promote-neo-paganism-sunday-womens-ordination-eco-revolution-and-ecumenism/
[3] https://youtu.be/H6P39XswlzI