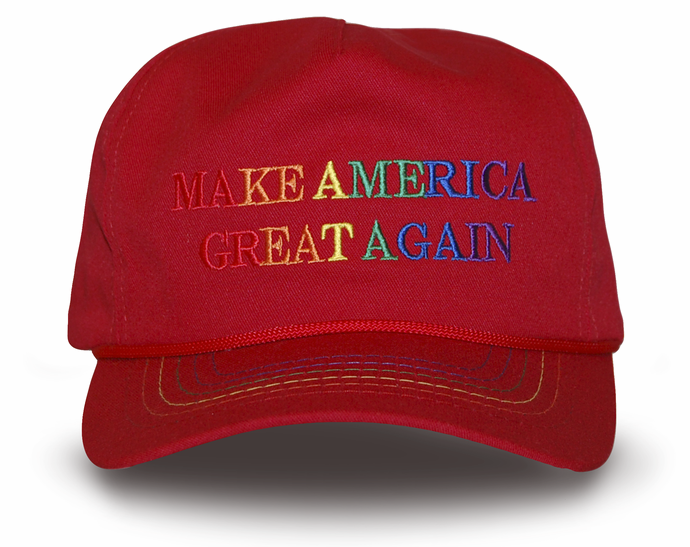 Shop.DonaldJTrump.com is the only place to buy official brand merchandise for the Trump/Pence 2020 Reelection Campaign. This website is owned and operated by the "Trump Make America Great Again Committee" – a joint fundraising committee composed of Donald J. Trump for President, Inc. and the Republican National Committee. [1]
Trump's reelection campaign is promoting LGBT+ Pride merchandise through this website. The gay themed hats and shirts feature the iconic slogan "Make America Great Again" with the colors of the rainbow. The website actually gives the following product description for these items:
"Show your support for the LGBT community and the 45th President." [2] 
This is endorsing the homosexual lifestyle. This blatant approval of the LGBT+ movement appears to be at odds with President Trump's track record. President Trump has systematically reversed 31 different pro-LGBT+ policies and protections such as ending gays in the military, ending federal support for transgender friendly bathrooms and locker rooms, promoting biological-based health care, protecting people from having to choose between faith and LGBT+ rights and other oppressive pro-gay policies. [3]
In addition to ending dangerous LGBT+ regulations, Donald Trump has been called the most pro-life President we have ever had. [4] He is ending federal funding for abortion. Trump has also ended the practice of forcing health care workers from having to participate in abortions if they choose not to. He has also ended our "international" funding for abortion.
President Trump has also appointed 170 judges who are almost all conservative originalists – those who interpret our US Constitution according to the original understanding of our Founding Fathers. Trump's 170 judicial appointments include 2 Supreme Court Justices, 48 Appellate Court Judges, 118 District Court Judges, and two U.S. Court of International Trade judges. [5]
But in spite of a pro-family, pro-life, pro-constitution track record Trump's 2020 Reelection Campaign is promoting gay-themed hats and shirts. They are rewriting their iconic theme "Make America Great Again" with rainbow-colored letters. And they are supporting the entire LGBT+ Pride movement. This is very unfortunate. The radical homosexual agenda can never help "Make America Great Again."
The LGBT+ movement is destroying our nation, not making it better. And the Trump 2020 Reelection Campaign doesn't seem to understand that the LGBT+ message that they are now promoting is the same one that led to the destruction of Sodom and Gomorrah.  It's not just the sin of abortion (blood) that cries out to God (Genesis 4:10). The sins of Sodom and Gomorrah also cry out to God and this cry is very "great."
"And the LORD said, Because the cry of Sodom and Gomorrah is great, and because their sin is very grievous." Genesis 18:20.
Our churches, our schools, our hospitals, our entertainment industries and our political parties are under a constant attack by the LGBT+ movement. They are making inroads into everything – including the Trump campaign. They are also in Adventism. And the LGBT+ movement is hell-bent on stripping away all of our religious and civil liberties.
If the Trump campaign thinks that the LGBT+ movement wants to coexist and live peacefully side-by-side with our Judeo-Christian family values then they are terribly mistaken. The homosexual agenda is at war against the God of heaven. They are coming after our children and they are constantly attempting to reshape our culture into an image of itself.
You cannot pander to a movement that hates your belief system and is determined to destroy it. The Trump campaign is opening the doors to a culture that is anti-family, anti-faith and anti-God. All this is being done in the name of "diversity," "inclusion" and "votes." The current decline is disappointing but not surprising. All of this was predicted in the Bible and we are seeing it come to pass. Read Luke 17:26-30.
This growing trend will continue to engulf our world because these signs are declaring that we are reaching the limits of God's mercy. The sin of Sodom and Gomorrah that brought down God's fiery judgments will very much be alive just before the Second Coming of Christ. When this sin becomes universal the Lord will reveal Himself. The parallel is evident.
Sources
[1] https://shop.donaldjtrump.com/
[2] https://shop.donaldjtrump.com/products/make-america-great-again-pride-hat-red
[3] https://projects.propublica.org/graphics/lgbtq-rights-rollback
[4] https://www.dailysignal.com/2019/10/11/hhs-secretary-calls-trump-most-pro-life-president-ever/
[5] https://news.ballotpedia.org/2019/12/06/170-federal-judicial-confirmations-during-trump-administration/
[6] https://shop.donaldjtrump.com/products/make-america-great-again-pride-tee
[7] https://shop.donaldjtrump.com/products/make-america-great-again-pride-tee-1