Churches in some states are being unfairly and unconstitutionally targeted. Far more restrictions are being placed upon houses of worship than on secular businesses. For example, in Minnesota, churches can only have 10 people at a time while restaurants, bars, salons and barbershops are allowed to have 50 people. [1] Minnesota shopping malls and retail stores can open to 50% capacity, [2] which could easily mean hundreds of shoppers, while churches are limited to 10 people.
What is the reasoning behind this obvious disparity in Minnesota? This is what Minnesota Democratic Governor Timothy Walz has said about this double standard between churches and secular businesses. It makes absolutely no sense:
"They're (restaurants and bars) integral," Walz said. "They're the places where we had first dates, they're the places where we celebrate our anniversaries, they're the places where we gather together on special moments, and they make life just a little bit better … If it's a local brewery or a Juicy Lucy or a walleye dinner, Minnesotans are going to be able to get back out there" (parenthesis original). [3]
Bars make life "better" and that is why they can have 50 people, but churches can only have 10. How do you reach this conclusion? Does this mean that social distancing between the churches is around 60 feet per person instead of the 6 feet that the bars use? Why are churches being held to a higher standard?
There is a prohibition against public worship in some places in America. This nation was founded to escape this type of tyranny. In some states there is a ban against public worship if you have more than 10 people. Governors and mayors say, "You can't have more than 10 people in the church because you're risking the lives of others. But 50 people in a bar drinking beer is fine." This makes no sense and this is not based on science or facts.
Whether you think going to church is essential or not is not even the point. Do governors and mayors have the right to decide if churches are essential? That's the issue. Think about the implications of this and the precedent this would set for any future Mark of the Beast scenario. People in positions of authority decide with partiality who is and who is not essential based on their own personal feelings.
Some churches in Minnesota have responded by challenging these restrictions. Some churches say they will not agree to this. Some have decided that they will exercise their rights of worship in a safe and responsible manner with or without the approval of the Governor. The Catholic Bishops of Minnesota will challenge the governor's order and begin opening churches with a capacity of up to 33% and not just 10 people. [4] Notice what they said:
The bishops said it "defies reason" to allow malls to reopen while continuing to prohibit more than 10 people from gathering in a cathedral that can seat thousands." [4]
This obvious disparity in the governor's order has prompted some churches to say "no more" and many have decided to resume public worship in accordance with their religious rights and with public health and safety standards.
What about Seventh-day Adventists? No, unfortunately they are not part of the churches that have expressed non-compliance with the governor's order. Seventh-day Adventists are only non-compliant with the voted decisions of the world church. But when it comes to rogue and tyrannical governors, they are in lockstep. Most Adventist churches are live streaming their services [5] and the Minnesota Conference office is closed. [6]
Now President Trump has intervened in this conflict and has sided with the churches. He is the first world leader to publicly come out in favor of the constitutional rights of the churches. Regardless of what we think President Trump's motives are, it's good to see that someone (anyone) is defending the First Amendment. Notice what President Trump said:
"The governors need to do the right thing and allow these very important essential places of faith to open right now–for this weekend," Trump said. "If they don't do it, I will override the governors." [7]
"Today, I am identifying houses of worship, churches, synagogues, and mosques as essential places that provide essential services." pic.twitter.com/PptCGYNAaa

— The White House (@WhiteHouse) May 22, 2020
Let's be very clear about what President Trump said. On this particular issue of reopening the economy, he is NOT seeking any kind of special advantage or privilege for churches. He is trying to open the churches and put them on an equal footing with other businesses that are already open. President Trump is not trying to establish a state church; he is trying to give the churches the same rights that regular businesses have. He wants to end the unfair, unnecessary and unconstitutional discrimination against the churches by corrupt governors.
Does the President of the United States have the right to do this? Absolutely. The U.S. Constitution has defined the rights of the President:
"He shall take Care that the Laws be faithfully executed" (U.S. Constitution – Article 2 Section 3). [8]
This is the mandate given to the President and his officers (the Executive Branch) regarding their duties. It is their job to make sure that the Constitution is protected and that the highest law of the land is followed. The President of the United States has the right to sue the states in court and try to reverse any unjust decision. The President also has the right to send the National Guard to any state if necessary and to ensure that the Constitution is respected. It has been done before.
The Little Rock Nine
In 1954, the United States Supreme Court ruled in Brown v. Board of Education of Topeka, 347 U.S. 483, that the racial segregation of public schools was unconstitutional. The Governor of Arkansas at the time was Orval Faubus, and he decided that he would not comply with this. The Arkansas Governor prevented black students from enrolling at Little Rock Central High School in 1957. [9]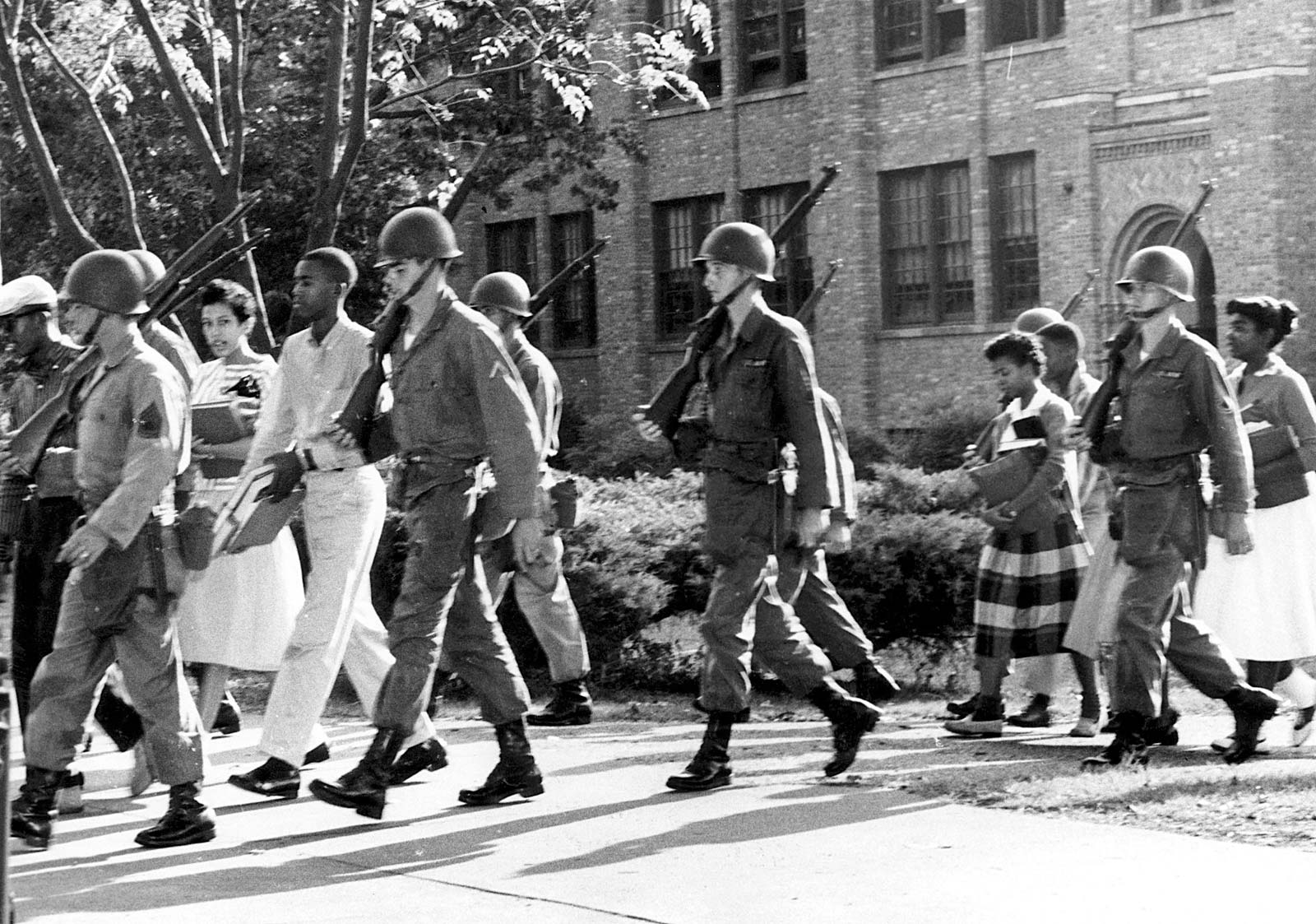 So what happened? You want to know? President Dwight D. Eisenhower sent the National Guard to escort the black students to the racially segregated school. Imagine that? Did the President of the United States have the right to do this? Can the sitting U.S. President enforce the Constitution? Absolutely. Therefore, it is perfectly within the President's duty to ensure that no one is discriminated against from corrupt and tyrannical governors.
All governors, senators, representatives and presidents take oaths to protect the Constitution of the United States. We do not elect leaders and send them to Washington, D.C. to represent our interests. No. We send them to protect the Constitution of the United States. And when they do, they deserve our support. When they don't, they deserve to be impeached. It's that simple.
Finally, President Trump is not forcing people to go to church. He is only defending the rights of those who want to go. This is all about personal responsibility and about people being able to make their own decision, safely. Pastors and churches can take precautions and follow public safety standards just like bars and restaurants.
If you don't want to go to church, stay home. If you are very afraid of COVID-19 and you have your reasons, you are entitled to your fears. Live a reclusive life accordingly. You are free to follow any strategy you want to follow to be safe; but your fear, justified or not, has no right to dictate the lives of all others. Some of us do want to continue living our lives, safely.
It is refreshing to hear that someone is talking about defending and protecting our First Amendment rights. Religious liberty is the most cherished freedom we have. Freedom has been given to us at too high a cost, and it must be carefully protected. I just thought that our religious liberty leaders would be the foremost in advancing this work and not President Trump or the Catholic Bishops of Minnesota. Where is the General Conference? Where is the North American Division? We need to file a missing persons' report because they are nowhere to be found.
Sources
[1] https://kstp.com/coronavirus/walz-says-phased-plan-to-reopen-restaurants-bars-barbers-shops-and-salons-will-go-into-effect-june-1/5736107/
[2] https://www.kimt.com/content/news/Malls-retail-stores-receive-guidelines-for-reopening-at-50-percent-capacity-570480721.html
[3] https://kstp.com/coronavirus/walz-says-phased-plan-to-reopen-restaurants-bars-barbers-shops-and-salons-will-go-into-effect-june-1/5736107/
[4] https://www.mprnews.org/story/2020/05/20/minnesotas-catholic-bishops-say-theyll-defy-walz-limits-on-church-attendance
[5] https://www.mnsda.com/about/news/worship-options-in-minnesota
[6] https://www.mnsda.com/about/news/covid-19-stay-home-order-extended
[7] https://www.foxnews.com/politics/trump-announces-that-houses-of-worship-are-essential-calls-on-governors-to-open-them-up
[8] https://www.usconstitution.net/xconst_A2Sec3.html
[9] https://www.history.com/topics/black-history/central-high-school-integration