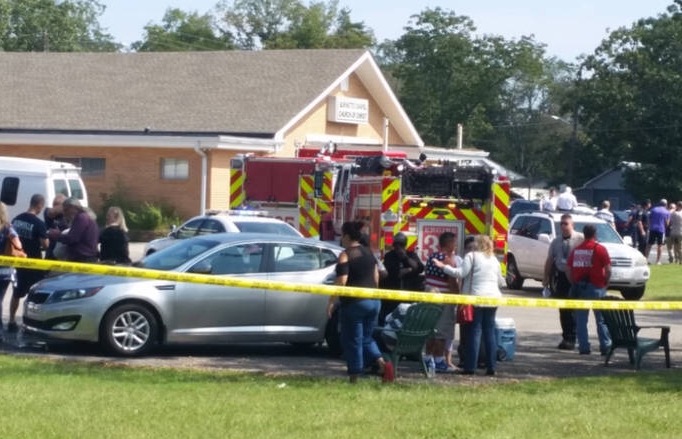 A 39-year-old single mother of two was fatally shot in a church parking lot. Melanie Smith was murdered as she was leaving church by a black Sudanese attacker as he went into Burnette Chapel Church of Christ and randomly started shooting white people. 1 was killed and 8 others were wounded in the attack that took place at a Sunday morning church service in Antioch, Tennessee. This was going to be a massacre if not for the heroic actions of a church usher who confronted and stopped the attacker.
Why isn't this tragic, senseless church murder and shooting being described as an act of domestic terrorism by the media? Why is this story not getting the same media attention as the murder of Heather Heyer in Charlottesville, VA. Remember, Heather Heyer was the white woman who was killed during violent clashes between protesters and counter-proteste over the removal of confederate monuments.
At that time there was wall-to-wall media coverage of Heather's tragic death as she was hailed a hero for standing up to the "radical right." Her murder was described as "right-wing" terrorism by the media and her death was mourned world-wide. There were rallies across American cities as people mourned Heather's death while condemning the "racist" who murdered her. In fact, there are plans to name a street in Charlottesville after her.
But why is it when conservative Christians are killed and shot in church in cold blood by a black assailant that we don't see the same national or international outrage? The "racial" and "terrorist" components to this heinous church shooting story are being buried by the media. Why?
Where are all the protests and rallys in the cities across America protesting the tragic loss of this Christian conservative mother? There are none. Where are all the pledges to stand in solidarity with the victim, a white Christian woman, who died at the hands of a black man? There are none. Where are all the civil right groups and other voices calling this an act of racism, black supremacy or terrorism? There are none. Where are all the politicians condemning this tragedy? We don't see them, at least not in the media.
Are we now in the business of politicizing deaths and tragedies in America? Do we now first determine if a death or tragedy fits a certain political narrative or agenda before we determine its newsworthiness? One thing is certain: the passing of Melanie Smith will never get the same reception that Heather Heyer received because not all murders are created equal, according to the priorities of the mainstream media.
Murder is murder and should be equally condemned and mourned regardless of the victim's ideology, religion or race. But since there is a growing bias against God and Christianity in this nation, an agenda is being promoted in America through the media that focuses on a secular, liberal narrative and not on reality. The mainstream media's narrative is this:
1. All white Christian conservatives are racists and evil.
2. Guns are the problem.
3. Blacks and other minorities are the victims.
The reality is that this Tennessee Church shooting reveals the very opposite. The perpetrator was black, the victim was a white Christian woman and the attack was stopped, not by police, but by a concealed carry permit gun owner who had a legally-owned gun. This story doesn't fit the news media's agenda so that's why it is getting buried.
Conservative Christians are becoming the most marginalized and forgotten people by a society that is becoming hostile towards all things sacred and godly. Racism, discrimination, bias, partiality, bigotry, intolerance, unfairness and favoritism should all be rejected because God created us all and He loves us all just the same. Every life is of great value in His eyes and should be treated equally and accordingly. This is what God desires and is the only way to prevent the coming race war and racial divisiveness that is exploding in America.
"Of a truth I perceive that God is no respecter of persons: But in every nation he that feareth him, and worketh righteousness, is accepted with him." Acts 10:34, 35.
"He that hateth his brother is in darkness, and walketh in darkness, and knoweth not whither he goeth, because that darkness hath blinded his eyes." 1 John 2:11.
"Behold, I am the LORD, the God of all flesh." Jeremiah 32:27.