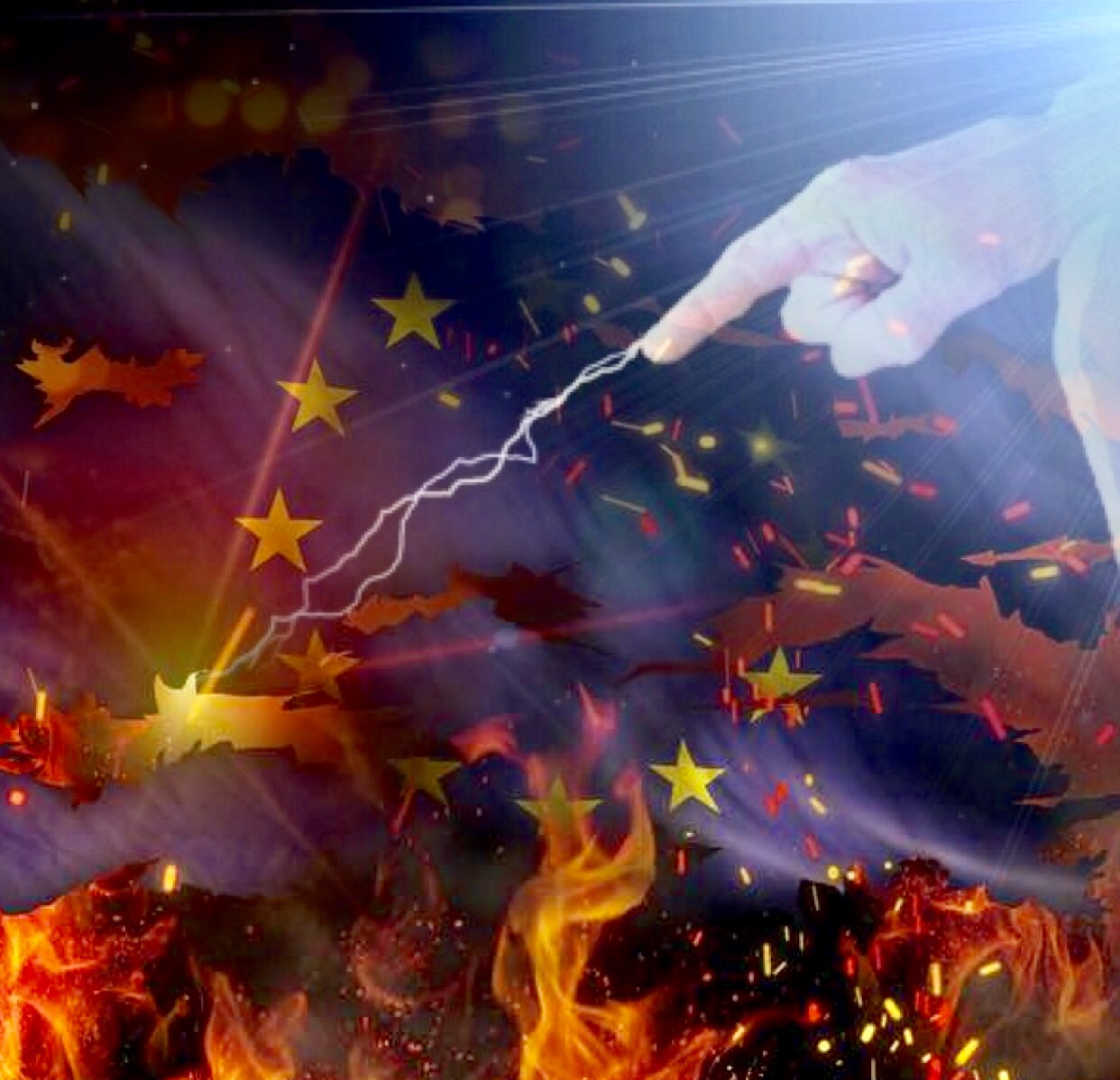 "So are the paths of all who forget God; And the hope of the godless will perish." Job 8:13.
God has had to watch with horror as Europe has descended into a godless, secular and immoral culture. The European Union, the legislative body for the European states, is leading the world in on-demand abortion, euthanasia, legislating sexual immorality, gender identity rights, the criminalization of not accepting same-sex marriage and they have attacked every other sacred institution given to us by God. Europe has been foremost in removing God and His providence and protection from the life and culture of the nations.
Things were not always this way. Europe once enjoyed the benefits and blessing of God for embracing the His word and His Biblical principles of morality. During the Protestant Reformation of the 16th Century, Biblical morality and truth spread across Europe and brought with it the rise of Judeo-Christian values throughout the continent. It was because of the Protestant Reformation that art, music and religion experienced a new birth called the Renaissance. God blessed His people as He brought them out of the Dark Ages and into a glorious age of truth, righteousness, science, freedom and art.
This Golden Age did not last as Europe began to slip during the 18th and 19th Centuries. A new ideology based on reason was forged and finally incorporated in the nations of Europe. The "Death of God" philosophies brought secularism and unbelief in the Creator and resulted in the abandonment of Biblical principles for morality. This abandonment of God gave rise to socialism, communism, materialism and humanism. This has slowly led to the death of Biblical Christianity. The churches in Europe today are a mix of formalism and socialism and NOT a reflection of what the Protestant Reformation used to be.
Judeo-Christian values continue to dwindle in Europe to the point where in today's culture it is non-existent. There is a price to pay when nations who have been blessed and delivered by God begin to turn their back on Him and forget His leading.
"Now consider this, ye that forget God, lest I tear you in pieces, and there be none to deliver." Psalm 50:22.
"While God's mercy bears long with the transgressor, there is a limit beyond which men may not go on in sin. When that limit is reached, then the offers of mercy are withdrawn, and the ministration of judgment begins." (Patriarchs and Prophets, p. 162).
Our loving God of mercy is at war with sin and evil (Revelation 12:7-9), and at certain times throughout history when rebellious men mocked their probationary time of grace and despised the calls to repentance, God brought terror and judgments upon the land to punish their unrelenting disobedience and immorality. In every age this has been the case, and because God is alive and sits on His sovereign throne and because He is the Creator and the God of all flesh (Jeremiah 32:27) His dealings with mankind is no different today. The Lord promises an age of terror to godless men and women who despise and mock the loving warnings of a merciful God.
"And if ye shall despise My Statutes, or if your soul abhor My Judgments, so that ye will not do all My Commandments, but that ye break My Covenant: I also will do this unto you; I will even appoint over you terror, consumption, and the burning ague [fever], that shall consume the eyes, and cause sorrow of heart: and ye shall sow your seed in vain, for your enemies shall eat it." Leviticus 26:15-16.
"Behold, the Lord, the LORD of hosts, shall lop the bough (trim the branches) with terror: and the high ones of stature shall be hewn down, and the haughty shall be humbled." Isaiah 10:33.
"God keeps a reckoning with the nations. Through every century of this world's history evil workers have been treasuring up wrath against the day of wrath; and when the time fully comes that iniquity shall have reached the stated boundary of God's mercy, His forbearance will cease. When the accumulated figures in heaven's record books shall mark the sum of transgression complete, wrath will come, unmixed with mercy, and then it will be seen what a tremendous thing it is to have worn out the divine patience." (Testimonies, Vol. 5, p. 523).
Here is the solemn warning from the Lord to the nations. God is ready to forgive and to bless if we would only acknowledge Him and obey His word.
"At what instant I shall speak concerning a nation, and concerning a kingdom, to pluck up, and to pull down, and to destroy it; If that nation, against whom I have pronounced, turn from their evil, I will repent of the evil that I thought to do unto them. And at what instant I shall speak concerning a nation, and concerning a kingdom, to build and to plant it; If it do evil in my sight, that it obey not my voice, then I will repent of the good, wherewith I said I would benefit them…Thus saith the LORD; Behold, I frame evil against you, and devise a device against you: return ye now every one from his evil way, and make your ways and your doings good." Jeremiah 18:7-11.
God is anxious to save us and heal our land, but if we as individuals or collectively as a nation continue on a downward decent into disobedience and immorality, God can and will turn our blessings into cursing.
"The wicked will return to Sheol (death), Even all the nations who forget God." Psalm 9:17.
"For I will no longer have pity on the inhabitants of the land, declares the LORD; but behold, I will cause the men to fall, each into another's power and into the power of his king; and they will strike the land, and I will not deliver them from their power." Zechariah 11:6.
"They cried for help, but there was none to save, Even to the LORD, but He did not answer them." Psalm 18:41.
"See now that I, I am He, And there is no god besides Me; It is I who put to death and give life. I have wounded and it is I who heal, And there is no one who can deliver from My hand." Deuteronomy 32:39.
"For thus saith the LORD, Behold, I will make thee a terror to thyself, and to all thy friends: and they shall fall by the sword of their enemies, and thine eyes shall behold it." Jeremiah 20:4.
"And I will set My face against you, and ye shall be slain before your enemies: they that hate you shall reign over you; and ye shall flee when none pursueth you." Leviticus 26:17.
"Therefore thus saith the LORD GOD; Behold, I, even I, am against thee, and will execute Judgments in the midst of thee in the sight of the nations." Ezekiel 5:8.
"But they rebelled And grieved His Holy Spirit; Therefore He turned Himself to become their enemy, He fought against them." Isaiah 63:10.
These Bible versus reveal the truth as to why Europe is in trouble. They are being left without a Shelter and Protector. Poor unhappy Europe! They are being torn apart by internal dissension and political strife while her children's blood stain its streets and foreign armies beat down their strongholds and fortifications.
"God is looking on. His purposes in regard to His rebellious subjects will be fulfilled. The world has not been given into the hands of men, though God is permitting the elements of confusion and disorder to bear sway for a season. A power from beneath is working to bring about the last great scenes in the drama…Transgression has almost reached its limit. Confusion fills the world, and a great terror is soon to come upon human beings. The end is very near. We who know the truth should be preparing for what is soon to break upon the world as an overwhelming surprise." (Testimonies, Vol. 8, pp. 27, 28.).
This is a time for serious reflection and a time to humble ourself and repent. The terror sweeping Europe is a result of the complete disintegration of Godliness and righteousness. May Europe's leaders return to their Biblical roots of old that were firmly established during the Protestant Reformation so that the people may once again enjoy a golden age of prosperity and blessings.
"He that despised Moses' law died without mercy under two or three witnesses: Of how much sorer punishment, suppose ye, shall he be thought worthy, who hath trodden under foot the Son of God…Vengeance belongeth unto me, I will recompense, saith the Lord. And again, The Lord shall judge his people. It is a fearful thing to fall into the hands of the living God." Hebrews 10:28-31.