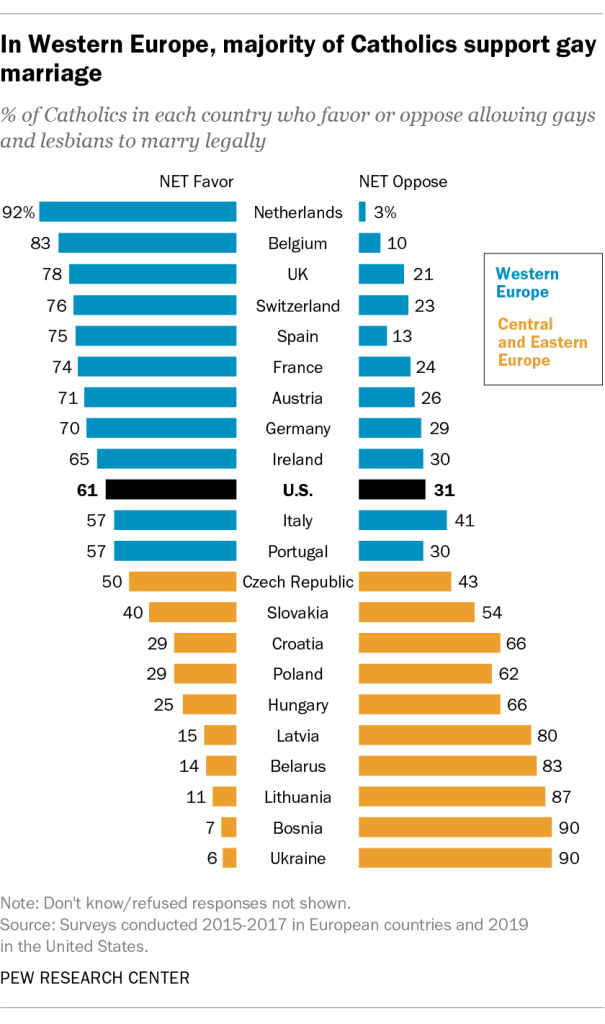 Pew Research reveals in a recent study that the majority of Catholics in the West approve of same-sex marriage. [1] This should come as no surprise as Pope Francis encourages civil unions between homosexuals. [2] Consequently, this affirmation also encourages Catholic politicians  to support homosexual marriage. Below Joe Biden performs a same-sex marriage.
Proud to marry Brian and Joe at my house. Couldn't be happier, two longtime White House staffers, two great guys. pic.twitter.com/0om1PT7bKh

— VP Biden (Archived) (@VP44) August 1, 2016
How do people who profess faith in God explain how an act designated as a grave immoral sin in the Holy Scriptures is today being reinterpreted as a good act? This is a very serious scandal that is not just affecting Roman Catholics. Many other churches are following Rome. How is it possible that churches today care more about the deforestation of the Amazon, immigration, the redistribution of wealth and other liberal causes and yet say nothing against homosexuality, a practice that is completely incompatible with the word of God?
Why are Christians today so quick to denounce the alleged sins against our ecology to the point that the entire world needs to act now, while ignoring real sins that go against the body, against nature and against God's plan for humanity? Why is our urgency more pressing on temporal things instead of eternal things? Can we truly ignore the unscriptural thinking on the part of the church regarding sin and sexuality?
It is a mystery how one can claim to support homosexual unions and still purport to adhere to sound biblical doctrine including Seventh-day Adventists. [3] This gradual shift among professed believers is not just an affirmation of the humanity of gay and lesbian people. It is an affirmation of the so-called human dignity of homosexual unions.
Sex outside of marriage is sin, and it doesn't matter if it is a heterosexual or homosexual relationship. Premarital sex is sin. Period. And the Bible teaches that marriage is limited to men and women (Matthew 19:4-6); therefore same-sex marriage and even premarital homosexual unions are sinful.
One of the worst things the church can do today is confuse worldly notions of compassion, love and tolerance with the life, character and work of Christ. The main problem with this new Pew Research poll is that it significantly misrepresents God.  The Christian faith NEVER calls us to embrace sin or sinful lifestyles.
We only want to recognize the human dignity in every person. What about the fallen sinful humanity of every person? What about recognizing the sinful brokenness of every child of Adam. What about helping people trapped in sin find the Savior who can deliver them out of bondage through faith and repentance. That's what Jesus did:
"Every soul was precious in His (Jesus) eyes. While He ever bore Himself with divine dignity, He bowed with the tenderest regard to every member of the family of God. In all men He saw fallen souls whom it was His mission to save. Such is the character of Christ as revealed in His life. This is the character of God. It is from the Father's heart that the streams of divine compassion, manifest in Christ, flow out to the children of men" (Steps to Christ, p. 12).
This means that the church must do much more than just listen and be open. If we are called to just listen and be tolerant, then we must also affirm drunkenness, fornication, adultery, lying, murder and robbery. Yes, the church must reach out to sinners, love them and have divine compassion to share divine inspiration with them:
"Or do you not know that the unrighteous will not inherit the kingdom of God? Do not be deceived: neither the sexually immoral, nor idolaters, nor adulterers, nor men who practice homosexuality, nor thieves, nor the greedy, nor drunkards, nor revilers, nor swindlers will inherit the kingdom of God. And such were some of you. But you were washed, you were sanctified, you were justified in the name of the Lord Jesus Christ and by the Spirit of our God." 1 Corinthians 6:9-11 (ESV).

"Jesus did not suppress one word of truth, but He uttered it always in love … He was never rude, never needlessly spoke a severe word, never gave needless pain to a sensitive soul. He did not censure human weakness. He spoke the truth, but always in love. He denounced hypocrisy, unbelief, and iniquity; but tears were in His voice as He uttered His scathing rebukes. He wept over Jerusalem, the city He loved, which refused to receive Him, the way, the truth, and the life" (Steps to Christ, p. 12).
Sources
[1] https://www.pewresearch.org/fact-tank/2020/11/02/how-catholics-around-the-world-see-same-sex-marriage-homosexuality/
[2] http://adventmessenger.org/the-united-nations-praises-pope-francis-for-endorsing-the-homosexual-agenda/
[3] http://adventmessenger.org/seventh-day-adventists-are-supporting-legislation-that-aims-to-codify-bisexuality-and-homosexuality-into-federal-law/