A note from the editor: This is a story that is 30 years in the making. This is the first time that we are aware that a faithful, historic Seventh-day Adventist believer attended an international ecumenical event, filmed part of it and reports first-hand what he saw. This report should serve as a warning to avoid these dangerous encounters.
By Vincent Cherry
I was informed by an attendee of a seminar I gave in Ohio that the 1993 Parliament of World Religions was about to take place. Because the content of my lectures was based on Revelation 14 and 18, which I had been giving around the United States for almost 10 years at that time, he felt it was necessary for me to videotape the event to prove to skeptics, members, believers and even non-believers that the events prophesied in Revelation were actively taking place.
I had NO IDEA what I was about to witness firsthand, nor to what extent evil was present there. I pulled out my camera, with plenty of charged batteries, blank tapes, microphones, lapel microphones, and A LOT of prayer and walked the six city blocks from the parking lot to the huge hotel which itself was a city block square. As I approached the building, taxi cabs were lined up along the street with their passengers from all over the world.
There were people dressed in traditional business suits, priestly robes, Native American costumes, Buddhist monks in saffron, Hindu clerics, Baptists, Methodists, Catholic priests, nuns, Monks in drab brown, Rosicrucians with their almost Catholic looking attire, the long brown robes with crosses dangling from their waists. There were Taoists, Shinto, Islamic Imams, Witches, Warlocks, Atheists, Agnostics, Humanists, New Agers, Satanists, Luciferians and Illuminists. Each wore a name tag that announced which religion they represented. And there were a lot more. Some I had never heard of before as well as hundreds of self-styled religionists.
I asked who was sponsoring this event and was told it was the Roman Catholic church and specifically the Jesuits. In fact, my greatest supporter in getting me clearance was a Roman Catholic priest. He gathered a heap of documentation for me at his expense free of charge in an area I was not allowed to enter. Out of curiosity I asked if ALL religions in the world might be represented there and he ASSURED me that ALL religions in the world were participating in this grand event. NONE were excluded or refused to attend. I ask more specifically if the Seventh-day Adventist Church might be represented, and he told me YES. However, I never spotted anyone. With over 8,000 attendees my chances of encountering one would naturally be very slim.
Upon entering the building, I saw two young boys standing out front of one of the entry doors. They were dressed in slacks, white shirts and ties. Each stood just before the doors but not blocking the entry, and they spoke to as many people as they could and offered books freely. The gentleman who escorted me around said we should interview them.
They informed us, as you will see in the video, that a member of their church told them about this meeting, that it was dangerous and that it would lead to the terrible crisis in the future described in Revelation. So, these young men, ages 16 and 14, took it upon themselves to go to this event and warn as many people as they could NOT to go in. I asked them what books they were so freely handing out to which they held up "Steps to Christ" and "The Great Controversy"! I was floored! Besides these two young boys, the only other Seventh-day Adventist was a man named Larry Pellegrini (deceased) and his wife Patricia warning about this event openly.
I saw a member of the Taoist religion who freely told me what the purposes and objectives of this event were without hesitation. He stated that the goal of this gathering was to establish a parliamentary platform on par with the United Nations in legal and enforcement capability to form understanding, mutual respect and to create a ONE WORLD RELIGION. This comment is on the video interview I had with him and it is not edited. As we returned to talking with the two young men, they recounted an event that happened just before I arrived on the scene. A Baptist man who was working overtime in the maintenance department for this event came running from the building and talking loudly warning people NOT to go inside.
He had witnessed several of the ceremonies that took place on one of the floors in the central auditorium. When it was time for the Satanists to demonstrate their religious practice, they began an incantation to the devil himself, and in the words of this man, " Something began to arise from the stage floor, with smoke and fire, and a being came up out of nowhere, it was evil and he said you could feel the power throughout the entire space (not a small space either, seating there can hold over a thousand people, I was told). He left the room hurriedly. As he was about to walk away the boys said that he told them he was on his way to his church to warn the members that this ecumenical movement was SATANIC and to stay away from it at all costs.
To ANYONE who in total blindness and willful ignorance attempts to use the Bible or the Spirit of Prophecy to justify their link to the Ecumenical Movement, I say, may the LORD have mercy on you. You have no idea (or do you) of the sinister plans this movement has laid out. Nor have you any knowledge of the Truth. The Bible plainly forbids union with darkness and evil. PERIOD. I am no theologian, but that much is plainly revealed in the word of GOD.
Those who in their radical declaration feel the need to partner with such unions clearly show that they have "departed from the faith and are giving heed to seducing spirits and doctrines of devils" (1 Timothy 4:1). Have we not been warned of this very thing? Have we not been told in the Spirit of Prophecy that the teachings of Spiritualism would be entering the Churches? None are excluded:
"As the teachings of Spiritualism are accepted by the churches, no real restraint is imposed upon the carnal heart, and the profession of religion becomes a cloak to conceal the basest iniquity. A belief in spiritual manifestations opens the door to seducing spirits and doctrines of devils. The influence of evil angels is felt in the churches throughout the land" (Spirit of Prophecy, Vol. 4, p. 422).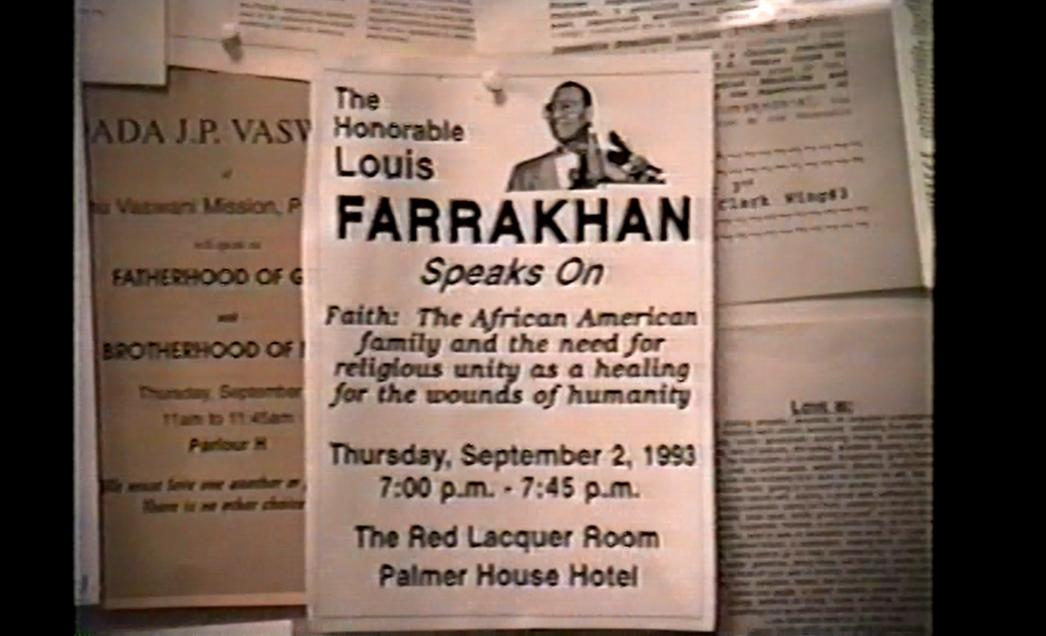 We should have absolutely NOTHING to do in ANY shape form or fashion with the ecumenical movement if we are to follow the Head of the Church which is Christ Jesus. Anyone connecting to that beast system commits high treason, because it is leading precious souls whom Christ died for to self-destruction, eternal suicide and hell. This is that train spoken of in Early Writings p. 88 that is on the fast track to perdition! It should be avoided like a plague only 100 times stronger and more fervently.
I interviewed several other attendees and videotaped heads of various religions. The atmosphere of that place was stifling with evil. I was constantly in prayer as I literally could feel the presence of evil angels in abundance! Cold eyes stared at me, some with a look of desire to destroy me. But my GOD sent HIS angel to protect me while on this mission to expose and inform. Sadly, no one was interested at the time to view the video footage or have me come and share the experience. So, for almost 30 years I sat on this information until Advent Messenger published an article on the 1893 Parliament of World Religions in Chicago, Illinois. Then I reached out to them and mentioned that I had attended the 1993 Parliament of World Religions in Chicago.
What will it take to open our eyes to the danger of this effort of Rome to unite the churches? We have been warned for over 170 years and we have history to prove what happens when ANY concessions are made with Babylon (the Roman Catholic Church). It ALWAYS leads to destruction; first the destruction of faith and then the destruction of life. True Protestants should and will know better. True Christians should and will know better than to ever make ANY type of pact with the church that the Bible labels The Great Whore.
In a short period of time from this writing something very strange and overpowering to most will occur, and behind it will be the ecumenical movement. It will be most startling. I urge everyone reading or listening to this message to get in the Ark of Safety. Get into the Secret Place of the Most High –  NOW, and stay there. An overwhelming delusion is about to present itself. Where will you stand? Psalm 91. Grace and Peace.
About: Vincent Cherry is the former assistant director of an Inner City Programs for the Northern California Conference; a former youth pastor from Riverside, CA; a former teacher at San Diego Academy (junior and high school levels); a graduate from Loma Linda University and speaker and director of the Final Warning Ministry. You can reach him at vcherry1954@gmail.com